Trend: The further we go south, the higher the price for mooring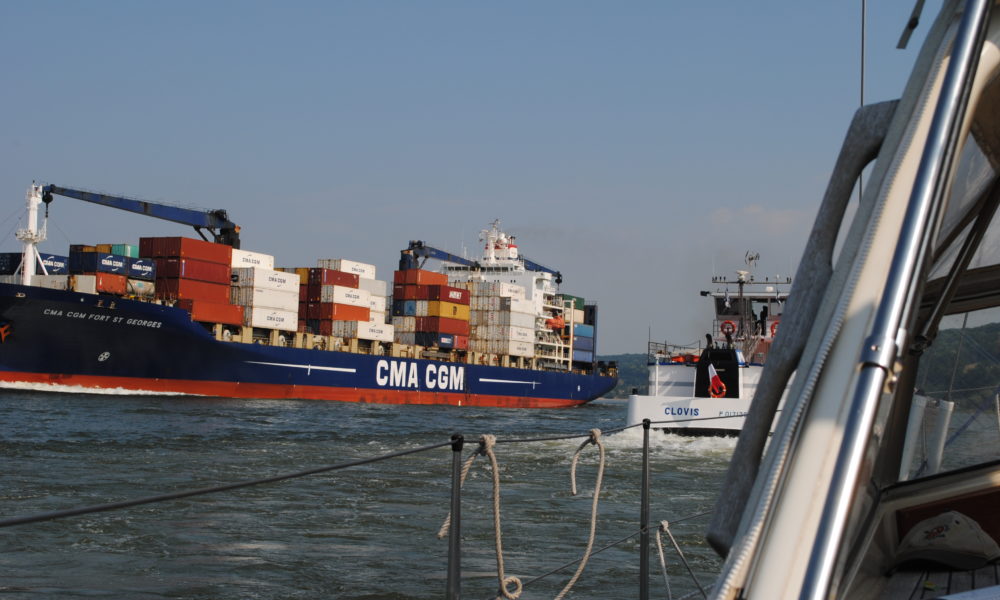 49° 55′ 22.7712" N 1° 4′ 38.9388" E
July 17. – 2013
Again, we have problems with the autopilot. We thought that we had solved the problem. But it is still there. In a new form. The autopilot controls the whole game. It is fighting apparently a desperate fight to make the rudder steer a course, that has nothing to do with reality.
Time for the manual again. I hate manuals. We carry out a deviation test by letting "Ronja" sailing around in a circle with two knots – a total round trip of three minutes – while the pilot and the GPS system detects deviation. Then we adjust the indicator again, and we adjust the exchange rate between pilot and GPS as the autopilot consistently believes, that the direction it must follow, is 12 degrees less than what the rest of the GPS system has set.
Several times along the way we think, that we should have a professional Raymarine expert look at the problems. But after some time of experimenting, it seems that we have solved the problem ourselves. And nothing is better than you yourself solving a problem on your own boat.
Today we set sail. Not long. But psychologically it is great to be sailing down through the English Channel.
Le Havre is a large port. For leisure boats it has a huge marina. We walk around the city, we find it difficult to find an absolute centre of the city, but we see many shopping streets, we find a "les halles" market with truly delicious food, and enjoy a beautiful town hall and a theatre house under construction, "Volcan", which looks like a severed blast furnace from the Ruhr area, and we also take a look inside a church, that looks like a space ship on a launch pad.
It is becoming more and more expensive to moor in a port. In the Netherlands, we paid 11.50 Euro for a night in "Lisse". We paid 9.30 Euro for an overnight stay in Gouda – beautiful location but not many sanitary facilities. In the City Marina Rotterdam, we paid 27 Euro for a great location and some exceptionally sanitary facilities. In Stichting Veerhaven Rotterdam, we paid 23 Euro for a single button so luxurious accommodation. The Royal Belgian Sailing Club Zeebrugge, Belgium, we paid 28.09 Euro for an overnight stay. In Calais, we paid 23.75 euros per night. In Boulogne-sur-mer, we paid 24 Euros for something that barely was in order. In Port de Dieppe, we paid 30 Euro for a lot of facilities, even though we just used their garbage. And when we arrived at Le Havre, we note that the price has risen to 34 Euro for some services, of which we only used electricity, Internet and water. It is becoming more and more expensive.
It is said that when we reach the Mediterranean, it will get really expensive.
Log-book: Sailed distance: 62 miles. Time: Departure 06.30 from Dieppe. Arrival 14:30 in Le Havre. Weather: Calm, weak sun and tides in our back for the first two thirds of the trip. Then more wind from the northwest, which we tried to take advantage of with the sails.