Our first serious aquaintance with seagrass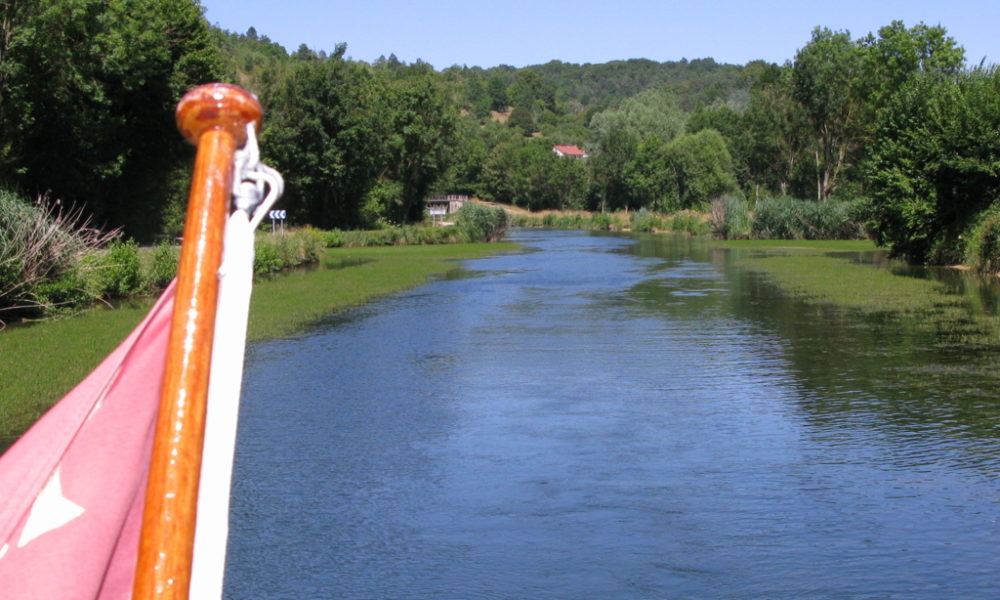 48° 40′ 8.2812"N 4° 44′ 3.1596" E
July 9, 2015
At the baker in Orconte they have a plastic-cup and a sign on the counter like in other countries, you know saying "Support the Salvation Army" or other organisations. On the Orconte-baker's it says: "For the baker's holiday".
We say good-bye to our British friends. We are on to further adventures. Our first experience however is, that when we get to the first lock of the day, nothing works. We were at the first lock of the canal between Champagne and Burgundy equipped with a remote control, like a simple TV remote control, and it's job is to manage locks, have them open, have the water emptied, so the lock is ready, when we arrive inside the gate.
But today's first lock light is not red, and it does not change to green, when we use our remote control, which usually indicates that our signal has been received. We agree that the person, who has the job of opening the gates for a new day, has overslept. We still believe this theory.
We call VNF-guard, who assures us, that an employee will arrive promptly at the gate. This holds true, and we can see that the employee is riding to the next locks to make them ready for a new day. Given that most locks are automated, it is a very labour intensive operation that VNF is running. They move the lawns, repair and assist on a large scale. Sometimes we almost feel, that we have a personal assistant available. We only came across three other boats all day. All private boaters. No commercial ships that otherwise have priority to use the system from eight o'clock. The rest of us cannot use the locks until 9 o'clock, so the VNF employees would not open the floodgates until 9:00.
The routines around locks are in place. We spend about 15 minutes, sometimes up to 20 minutes, from the time we have activated the remote control, until we are through the lock. The locks are placed about two kilometres apart from each other.
We have begun to place our ropes closer to each other instead of a rear and a foreword placement. This means that both ropes take tension from the same direction, and it allows a fine control in the locks. All the time we take in the ropes, so the boat is parallel to the lock wall. Gone are the early days of turmoil and experimentation. Now we run uniformly, quiet and controlled lock after lock. Nellie knows her role. Below deck or in the cockpit, so grandma and grandpa can do their job
Six kilometres south of the – as seen from the canal – the grey industrial city St. Dizier we find a berth in Chamouilley. A small town that has invested in a piece of quay with room for for six-seven boats and modern automatic billing system via computer and Visa cards. We go to the quai to early. We experience low ground under the boat, and seagrass is whirled up in large quantities by the propeller. We turn the motor back, but still we probably have a decent amount of aggressive sea grass in the propeller.
We reach berth with a deluge of seagrass behind us. Luck however, comes to the person, who knows how to wait. Our British friends arrive shortly after, and the father, Charlie, takes on his goggles and dives down to check something with the cooling water on his own boat. We ask if he would take a look at our propeller. He comes back with two large handfuls of seagrass.
We ask him to check the generel state of the fouling under Ronja. She has after all not been out of the water for nearly three years. It is fine, it turns out. Presumably because of the fresh water. Finally, we ask Charlie to check the bow thruster, which was not worked since last summer. He does and tells us, that it is fine, no obstacles, no fouling, no seagrass trapped. So it must be a problem with the electric motor.
Lasse and Tialing arrive by the car, they picked up in Epernay after their mini-vacation in Paris, bringing 24 two-litre bottles of water, a new starting battery for Ronja and food for a dinner on the pier in Chamouilley, that despite the unreasonable amounts of sea grass shows up to be a nice little gem of casual nature with playground, picnic tables, benches and provincial idyll.
Log book: Today's distance: 25 km. Sailed time 9:30 to 15:30 = 6 hours. Locks: 10. Weather: Day mild and good. We start with fleece jackets, but during the morning we get a comfortable temperature. A little sun. A little clouds. Like home.