Tidal Seine is rough, desolate and magnificent nature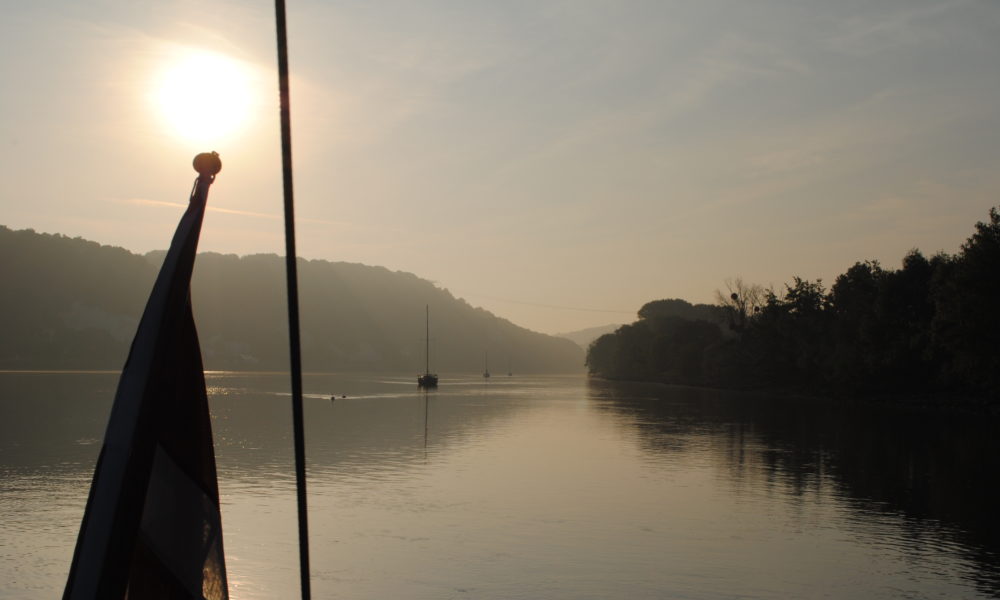 49° 29′ 39.732" N 0° 6′ 28.5444" E
July 18. – 2013
We had already asked for advice at the port office. "Go at low tide minus two hours," they told us. Low tide in Le Havre on July 18 is 13.22. Minus two hours is 11.22. As a precaution, we leave at 11.15. It gave us the time for a quiet morning with a long run along the seafront in Le Havre, bath and breakfast.
The two hours before low tide, we use at getting to the entrance of the Seine. In the river there are some scary areas with shallow water, and it was explained to us, that they move from year to year, so as a precaution we have to sail far out into the English Channel before we swing into the entrance to Seine.
It turns out that there are two factors working against us. Today it is neaps. This happens once a month and means that the tidal current is less strong than normal – and therefore we get less co-current flow. At the same time, the wind is strong – 9-11 metres per second – and it slows our speed, as the wind mostly goes against us.
Therefore, we are not reaching today's goal, Rouen, but have to moor Ronja to an anchor buoy some 15 nautical miles before Rouen as the tidal power is strong, and it becomes impossible to reach our goal within a half hour before sunset, which is the limit for boating on the Seine . We tie up to a very beautiful place.
Deciduous trees are all along the riverbank. Direct view of the sunset. Pies, bread and cheese provide an excellent evening meal at about nine.
The part of the Seine, which is called the "tidal Seine" is very special. Far more deserted than we had expected. Raw and steep nature. Not a single house has a boat in the front yard, which we have become accustomed to in Holland. In one day we come across less than a handful of boats like ours but maybe a dozen cargo ships. Beautiful scenery alternates with stinking industrial areas. When we are doing the best we log 9.5 knots. But for long periods we have – because of neaps and headwinds – difficulty to exceed six knots.
The special feature of the 120 kilometres along the Seine up to Rouen is also, that there are practically no places where you can dock or go to port. The back of the Seine estuary is the town of Honfleur. But then follows more than 50 miles without a single port or anchorage. Deserted. It is a pure coincidence that we find a private anchor buoy, which is free and we have no qualms spending our night in a small town called Duclair.
Log-book: Sailed distance: Close to 60 nautical miles. Time: Departure 11.15 from Le Havre. Arrival 20:30 in Duclair. Weather: Wind up to 11 meters per second from the NNE.