Let us get away from these small locks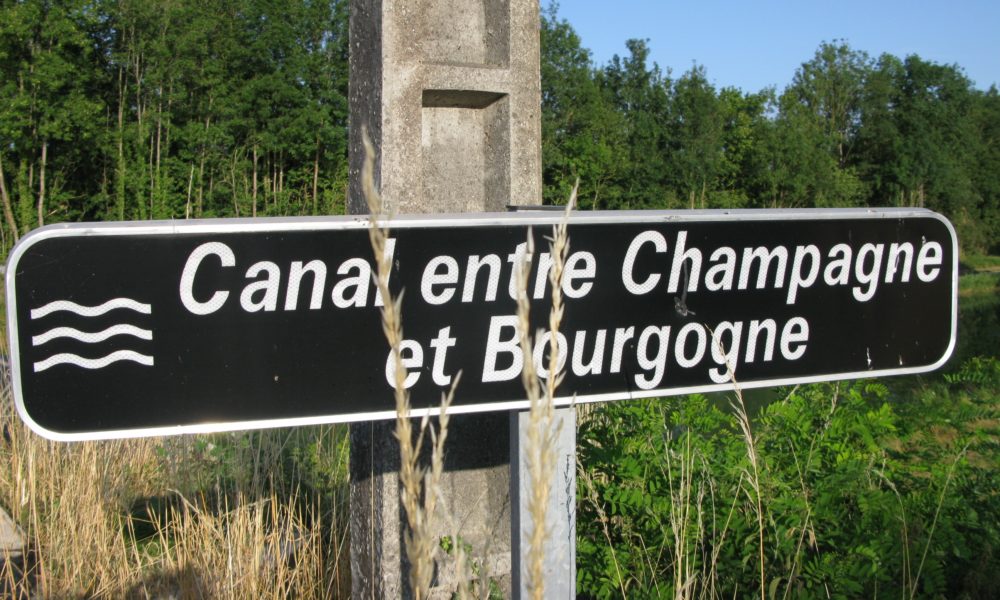 47° 11′ 52.854" N
5° 23′ 13.7112" E
July 16, 2015
We want to get out of locks. Now. Basta. Therefore: Up early. In good time for the first lock to open.
Sigh. It does not respond. The light is not green, when we beam the remote at it, and it does not give us a red light even as a starting point. It is completely dead. Straight on the phone. "Parlez vous anglais?". "No". Just listen to this: "Ecluse numero 36, avalant, ne functionne pas …". They will send a man. He asks why on earth we will further south, when it is already so hot here in the north. Well. Good question.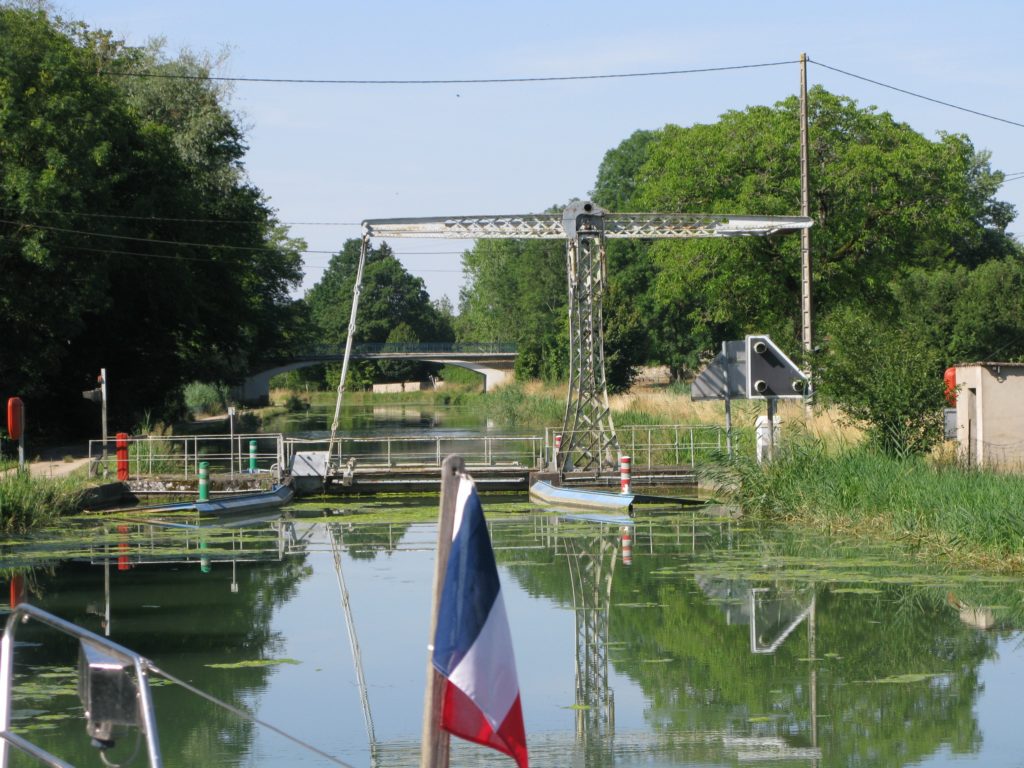 Shortly after it is a small bridge, that will not rise. We grab the phone: "Parlez vous anglais?"
After the very last locks of the Canal entre Champagne et Bourgogne we sail into the Saone river and we observe an instant switch from the narrow channels. Here is traffic. Here is life. Other boats. Many rental boats with children. Extra water under the keel, longer between banks, more anglers along the coast.
Great! We are sailing faster and calling Auxonne, which to our surprise turns out to have a marina with 150 berths. So great a port, we have not seen for years. Strangely, to see a full port without a single mast. But thats the way it is in these parts of Europe.
We need to get ashore and move. We walk around in the city. It is characterized by a large military barracks, a huge church and some really old houses. The barracks are for infantry and artillerymen. Napoleon served here in a period of his career.
We are looking for cafe with Wi-fi – several café owners tell us, that they would never dream of having a thing like Wi-fi – and when we finally find one, we celebrate the change between channels and river with a glass of champagne. We eat at the best restaurant in town, Hotel Corbeau, which stands out clearly – the other consists mostly of kebab and pizza places. Corbeau's food is excellent. The best so far on the trip.
We are talking with several Danes, who have rented boats on the Saone. We also meet Moodi and Carsten in their sailboat, Nicoya, from Rødbyhavn. They are on their way home over after three years in the Mediterranean, and are chock full of good advice on long-distance cruising. We invite them aboard, and while we contribute a few observations about where they should beware of low tide and extra seagrass in Canal entre Champagne et Bourgogne, they are giving their experience of good harbours in the Saone and Rhone, interesting ports in southern France and the best places in Greece, where they stayed for a few years.
We hear about cockroaches, cockroach traps, about the importance of washing fruit and vegetables piece by piece, before we take them on board, the professionalism of Navy Services in Port St. Louis (that's where we hope they continue to keep our mast and boom). We hear about the terrible port prices all along the coast of Italy, bad everywhere but worst from Rome and northwards, where the price for a night port adds up to 70 euros or even more, without even having special facilities. One of their tips is, that if we want to enter and see Rome, we shall sail up parts of xxx river and moor at one of the shipyards. There we can moor free and take the metro into Rome.
Carsten and Moodi, respectively 61 and 59 years old, have been on long voyages twice. The first time in two years. Later in three years. He has been taking early retirement. She did not yet.
They would have sailed home from Greece to the south of Sicily and via Menorca, Malorca and Corsika, but because of the current refugee situation they did not dare do it. They had experienced episodes of refugees in large rubber boats in Greece, and the thought of having to pass Lampedusa made them choose the Messina Strait instead.
It is no longer just the Somali coast, that sailors should take heed of, but also the Mediterranean where Carsten and Moodi knew of stories of gunfights between police and human traffickers, and where they frankly would not ever know what they should do if a few hundred refugees from Africa would board their small sailboat from Rodby.
Log book: Today's distance: 39 km. Sailed time 7:00 to 15:00 = 8 hours. Locks: 10. Weather: 38 degrees. The heat wave is back.