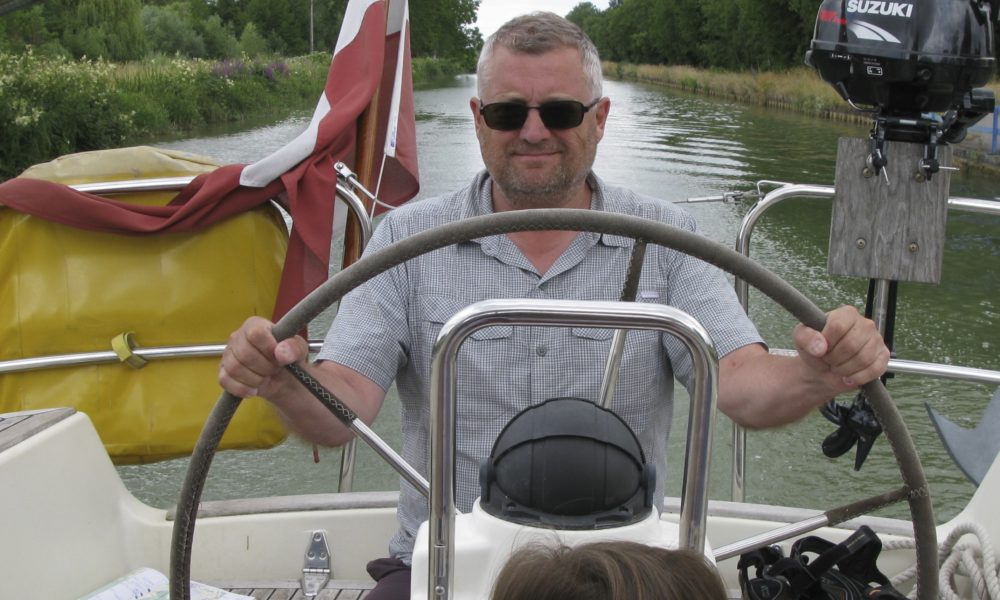 48° 58′ 49.8324" N 2° 2′ 12.2208" E
July 4. – 2014
We sail from Poissy-sous-Carriere at lunchtime. Henrik and Per  has bought food in bulk. Huge. Two stuffed supermarket carts. 24 bottles of water, beer, wine, garbage bags, disposable tableware and food for many days. Meanwhile, Susanne and Kirsten have made the boat ready and scared a million spiders off the deck and from the cockpit.
We fill the tank with diesel, pay the port captain and say goodbye to him and his son with thanks for taking good care of Ronja through the winter. It cost 250 euros extra for oil, oil filters, and battery recharging. Well, it had cost the same in Denmark.
The port's uncrowned king, Hans, get a new handful of canned beer and a hug from Kirsten. He looks like a happy man.
The trip to Paris is ok. We know the route in and out. For Susanne and Henrik it is an experience to try the locks for the first time and also to see Paris from the sea. The last – to see Paris from the sea on a Friday night – is a great experience for all of us.
Paris has just lost to Germany in the World Cup in Brazil. But it is not visible from the Parisians when we sail the last kilometres towards our destination, Port Arsenal. There's a party along the Seine quay edges. Thousands of young people sitting in groups, smoking, drinking, eating, having fun, listening to music or dancing at the special dance places. It's a beautiful experience to sail through Paris so late in the day. Party Ships. Holiday Atmosphere. Stuffed restaurants. Festively dressed Frenchmen. Great.
Log-book: Today's distance: 80 km. Sailed time from 12.30 to 21.30 = 9 hours. Locks- 4 pcs. Weather: heavy and hot.
48° 58′ 49.8324" N 2° 2′ 12.2208" E
July 3. – 2014
Damn! Damn! Damn! Here we have driven 1220 km since 5:00 am this morning to arrive at the port of Poissy-sous-
Carriere at 21.00 – the port captain has promised us, that if we get there before 21:00, he will be at the port, so we can get the key to Ronja.
It's only 20:00. We are knocking on his door. Locked. He has gone home. Only he has the key to Ronja. Damn!
We find another boss, King Hans, who from his motorboat keeps an eye on everyone, who come and go in the harbour. He is a bit eccentric and lives alone on his boat year round. We know him from last summer when we were immediately hailed from his boat, "No, You cannot be here, you have to get away! And You cannot lie there either."
We melted his heart with a summer surplus stock of beer and soft drinks, which we gave him before we went home to Denmark and asked him to pay particular attention to Ronja through the winter.
King Hans was touched by the reunion. He assured us with sign language – pointed first at his eyes and then Ronja – that he had kept a sharp eye on our boat, and that Ronja  was well. He is virtually impossible to communicate with, but he understands our problem anyway and tries immediately to find someone, who knows where the port captain is.
The captain himself has gone home. King Hans assures us that the captain's son will come to the port in about twenty minutes and find the keys for us.
Everything is good.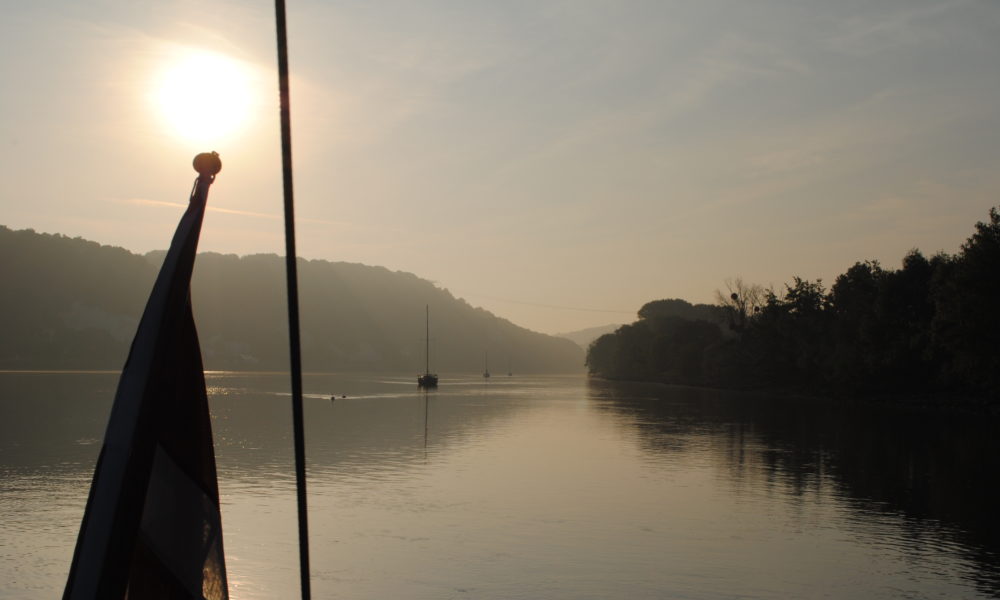 49° 29′ 39.732" N 0° 6′ 28.5444" E
July 18. – 2013
We had already asked for advice at the port office. "Go at low tide minus two hours," they told us. Low tide in Le Havre on July 18 is 13.22. Minus two hours is 11.22. As a precaution, we leave at 11.15. It gave us the time for a quiet morning with a long run along the seafront in Le Havre, bath and breakfast.
The two hours before low tide, we use at getting to the entrance of the Seine. In the river there are some scary areas with shallow water, and it was explained to us, that they move from year to year, so as a precaution we have to sail far out into the English Channel before we swing into the entrance to Seine.
It turns out that there are two factors working against us. Today it is neaps. This happens once a month and means that the tidal current is less strong than normal – and therefore we get less co-current flow. At the same time, the wind is strong – 9-11 metres per second – and it slows our speed, as the wind mostly goes against us.
Therefore, we are not reaching today's goal, Rouen, but have to moor Ronja to an anchor buoy some 15 nautical miles before Rouen as the tidal power is strong, and it becomes impossible to reach our goal within a half hour before sunset, which is the limit for boating on the Seine . We tie up to a very beautiful place.
Deciduous trees are all along the riverbank. Direct view of the sunset. Pies, bread and cheese provide an excellent evening meal at about nine.
The part of the Seine, which is called the "tidal Seine" is very special. Far more deserted than we had expected. Raw and steep nature. Not a single house has a boat in the front yard, which we have become accustomed to in Holland. In one day we come across less than a handful of boats like ours but maybe a dozen cargo ships. Beautiful scenery alternates with stinking industrial areas. When we are doing the best we log 9.5 knots. But for long periods we have – because of neaps and headwinds – difficulty to exceed six knots.
The special feature of the 120 kilometres along the Seine up to Rouen is also, that there are practically no places where you can dock or go to port. The back of the Seine estuary is the town of Honfleur. But then follows more than 50 miles without a single port or anchorage. Deserted. It is a pure coincidence that we find a private anchor buoy, which is free and we have no qualms spending our night in a small town called Duclair.
Log-book: Sailed distance: Close to 60 nautical miles. Time: Departure 11.15 from Le Havre. Arrival 20:30 in Duclair. Weather: Wind up to 11 meters per second from the NNE.