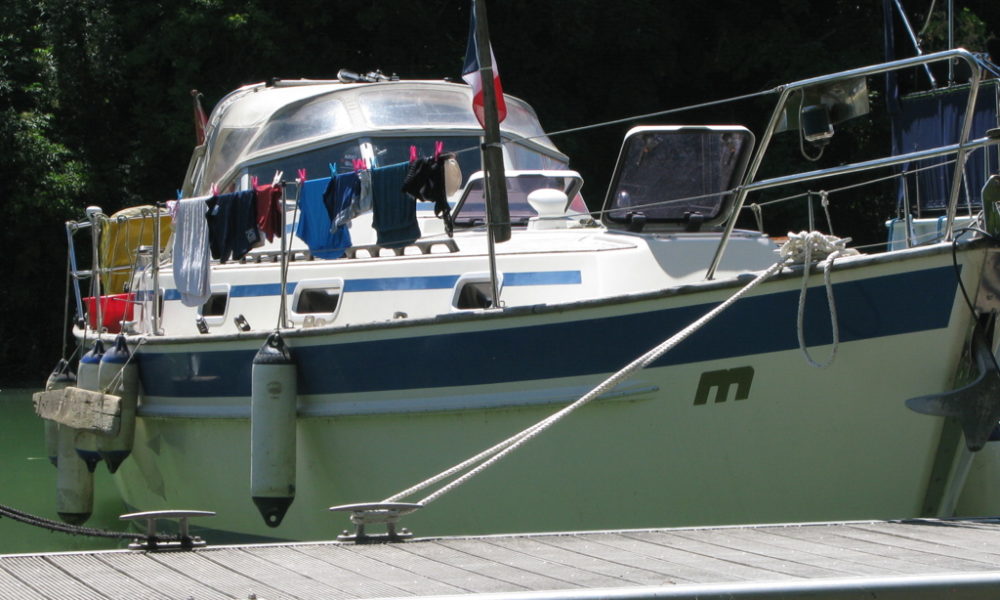 48° 57′ 0.6336" N 4° 21′ 10.1448" E
Tuesday – July 7
We try again. We start from the quay in Chalons en Champagne. We wave good-bye to Lasse and Tianling, who walk with their backpacks to the local railway station to take the train to Paris. Nellie continues aboard Ronja with her grandparents on a new adventure through the French channels. The plan is that Lasse and Tianling will retrieve our car in Epernay and join us after a few days in Paris. – wherever we are at that time.
There was a heron sitting on a branch just 12 meters from Ronja. We tell Nellie that it is the heron, she knows from Frederiksberg Garden back in Denmark, which has come to France to ensure that she is well. A kind of happiness-heron. He will follow us the rest of the journey. Nellie seems skeptic but is not totally dismissive.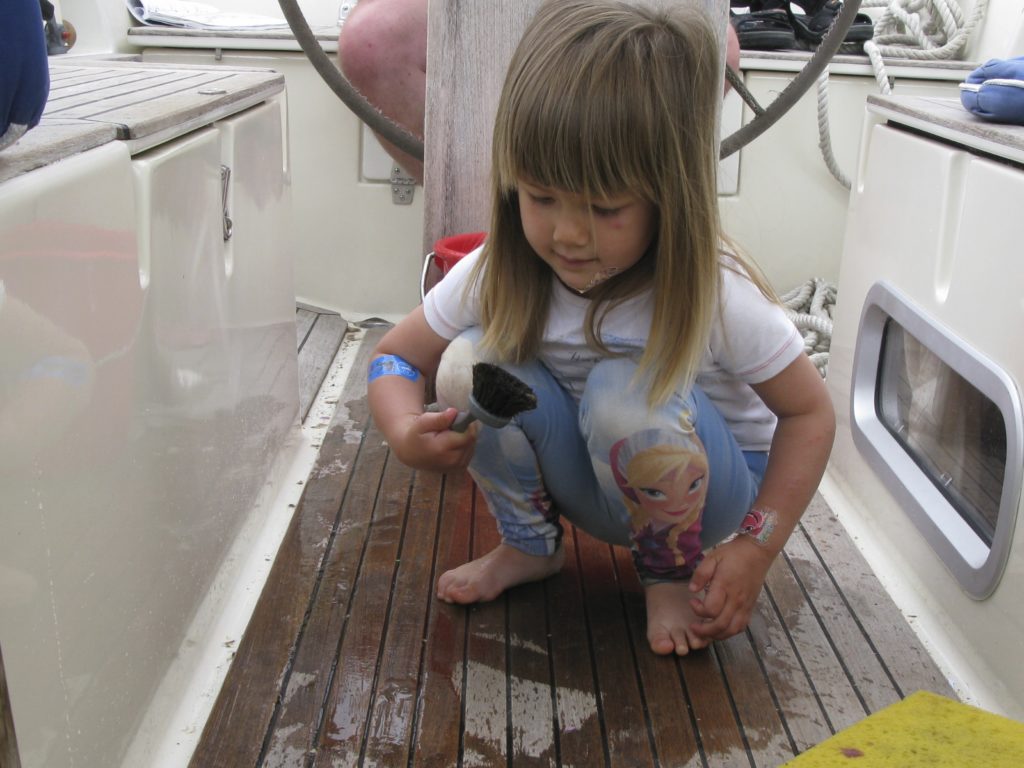 When we arrive at Vitry-en-Francois we see a flying heron. You see, Nellie, your happiness-heron is with you all the way.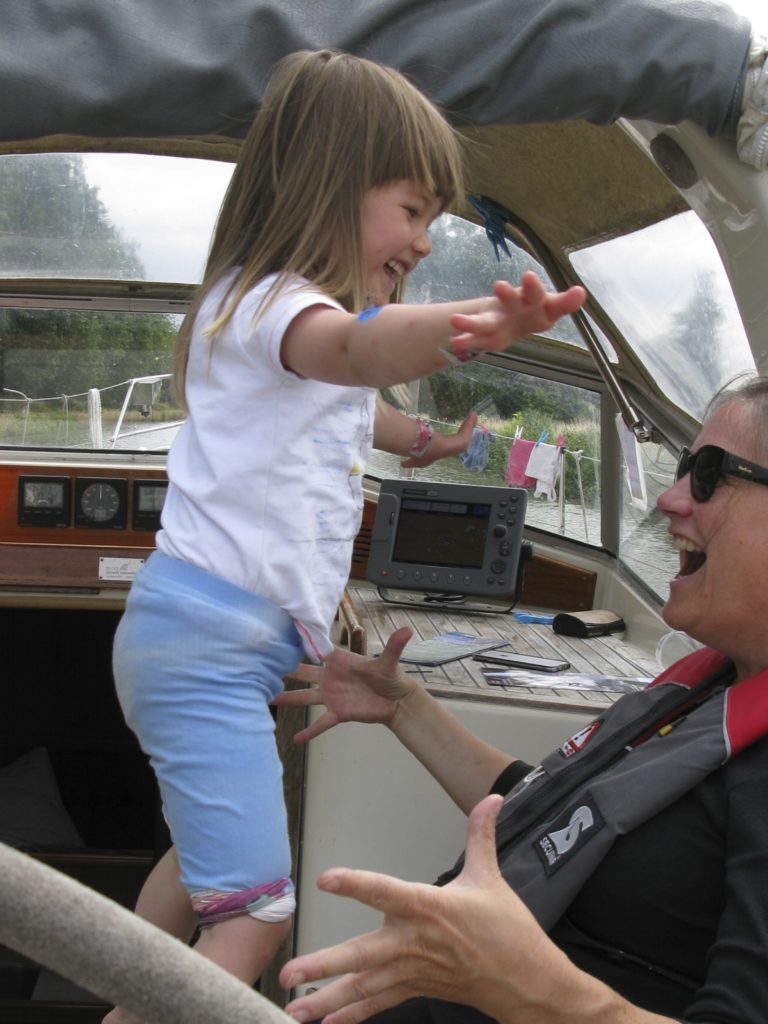 The happiness-heron flyes again, when we outside the minimalist marina of Vitry concludes, that we absolutely shouldn't enter and find a free space in that little harbour. A sign proclaims that the water depth is 1.60 meters (we protrude 1.75), and there are already 10-12 boats in what looks like 10-12 moorings. An American yells at us. He is outside the marina and invites us to moor with him.
We do. The American pair have sailed in France for 13 years, and just today "the transmission" smoked. Total kaput. We understand their description, that "the transmission" is the same as the part that broke in our boat a year ago. Their accident had happened a kilometre from the port of Vitry. A Dutchman had passed and had towed them in. It turned out that it was the same Dutchman, we the day before had used as a sparring partner against the French mechanics.
Today's journey has been beautiful, desolate and marked by the usual French picture: The French have not yet understood the quality of living by the water. They are "turning their back on". They place fields, industrial plants, warehouses and the back of their homes towards the river or canal. Quite the opposite of Holland where all gardens, all houses, all panoramic windows like a natural thing face the water, and the Dutch may well have a car on the street, but it is just as natural also to have a boat out on the water.
The French have nothing. The location of the canals and rivers will be the most expensive land in France in 10-20 years. But the French have not discovered it yet. It is probably culturally determined. Something about rivers and canals have historically been regarded as dirty drains for toilet and industrial waste.
Perhaps we should start buying up the French river locations?
Log-book: Today's distance: 32 km. Sailed time: 9:30 to 18:00 = 8 1/2 hours. Locks: 8 pcs. Weather: sultry. But after a few days with the heat wave it is a relief with temperatures of "only" 29 and 30 degrees and a slight shower of rain now and then. The lightning bolts, but even if we could use a cleansing thunderstorm, it is never close to us.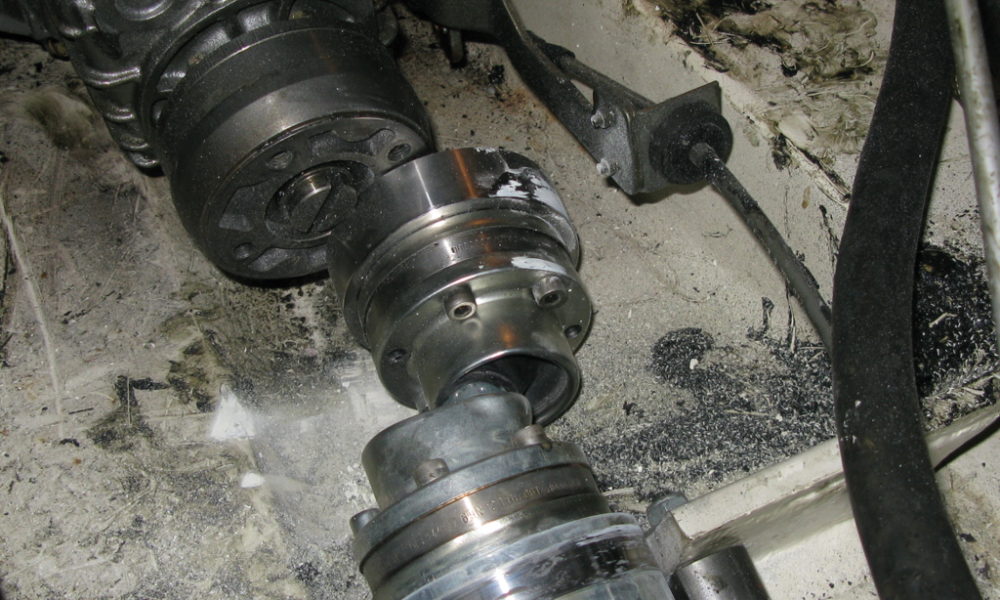 48° 57′ 0.6336" N 4° 21′ 10.1448" E
Monday – July 6
Krasch! Krasch! Krasch! Hearts are still. The brain refuses to believe it. We are shocked, when we hear the exact same sound from the engine compartment, which forced Ronja in the hands of French mechanics last year and cut off our sailing holiday, even before the first week was over. We don't doubt: It is the universal joint that is the problem again. It has broken loose.
We see for ourselves, how last year's tragedy now will be repeated. New mechanics, new waiting period, new parts, new repair. This year's sailing holiday interrupted. This year after only one day of sailing.
The morning actually started with Per and Kirsten playful to be on the water again, got up early and started the engine to start today's sailing, even while the rest of the family was still sleeping in the aft and main cabin. Ronja was not ten meters out into the basin, before the terrifying sounds from the engine compartment forced the boat back to the dock.
When we open the engine room we see a chaos of twisted metal and loose bolts. All of the spare parts had broken loose. So much for French mechanics.
As an unexpected surprise that we may yet end up with a bit of luck,  the skipper of the Dutch neighbouring boat stuck his head up from his cabin: "Do you need help? I am diesel mechanic. We pinch ourselves – are our neighbour really a diesel mechanics? – and explain to him, that we will certainly need his help, and that we had a bone to pick with a specific French mechanic, who spent months repairing Ronja, only for her to break down after a single day of sailing.
Per gets hold of the harbour master, a young student who is good at English. He is briefed and dials Meca Max Service, and he makes Alain Reinhardt aware of the situation. Disaster! Totally serious! We are the beginning of a desperately short vacation. Totally unacceptable. Something must be done immediately. Tout de suite!
Hey! He is at the boat within less than half an hour. We have never experienced this before.
He jumps into the engine compartment and comes up again soon – with the harbour master as interpreter – to reassure us that it may be a problem, but it is not a serious problem. It can be solved. The replacement part is intact, but the four (or six) bolts, as the brand new universal joint are secured by, has been found to be too short. Therefore, they have twisted free. Such a large part requires a stronger attachment, he explains. We do not need a mechanic to figure that out, but we are pleased, that the disaster apparently may be limited to only one day of repair.
Two mechanics work on it for seven hours. Voila. Now we can sail again. Alain Reinhardt claims, that the new repair will last for many years, adding that today's repair is to be considered a service. Without charge.
No charge. You bet there is no charge. Rather a warranty claim. We grits our teeth, and with a strained smile we thank him for being ready for rapid deployment. Inside we think: Hell of a truck mechanic. Next time, we must make an extra effort to find a mechanic, who knows about marine engines.
Our Dutch neighbour looks at the engine, whenever the French mechanics are home at their workshop drilling holes for longer bolts. He agrees that the problem is less serious, than it was first thought. But he is not impressed by their skills, and when we in the evening inspect the repair with him and test the engine for an hour with the gears back and forth, he declares that it will probably hold, but it is not a "nice job" they have delivered. Even we can see that.
"Garage mechanic," snaps the Dutchman. He himself has worked with engines and engineering for major river-projects worldwide.
He stopped working a few years ago, and the decision to retire is the best, he has ever made. He and his wife are now sailing six months a year and spends the rest at home in the Netherlands. His wife whispers to us, that he has far to go, before he is relaxed pace. He is still restless even after two years in retirement.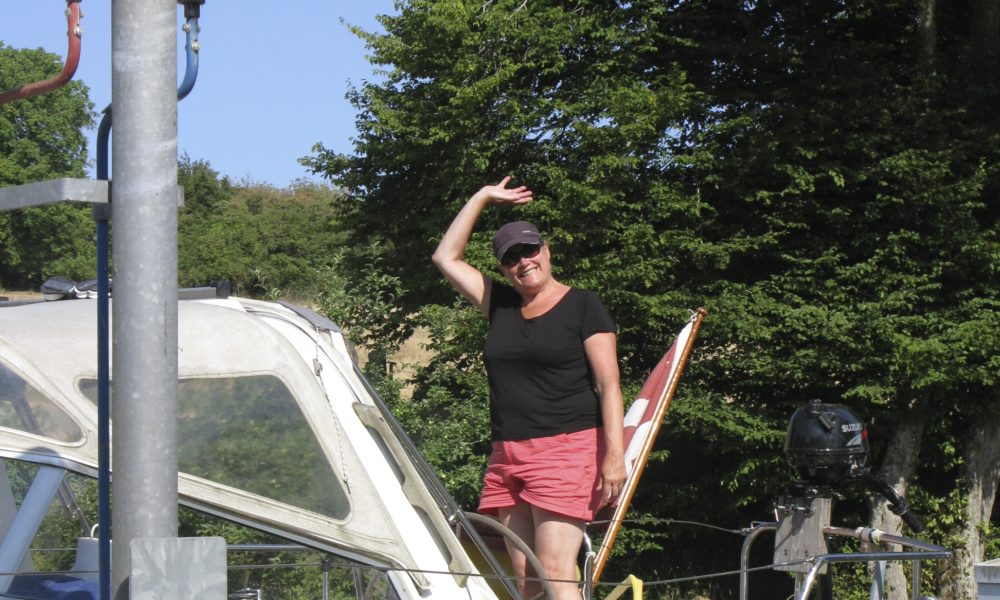 49° 2′ 39.6348" N 3° 58′ 1.56" E
July 5, 2015
We have agreed with Monsieur Bernard, that we will sail at 9:00: He and his girlfriend are ready to wave good-bye at the quayside. He says tut-tut like a ferry, that departs from land, playing for Nellie and letting us know, that we have been some very special guests. Sure. In a port with a total of three boats, who winter there, we probably paid the lion's share of his salary for a year, thinks a cynical man from Scandinavia.
It is a great trip. Damn it, it's a relief to wave goodbye to Epernay, which has "bound us" for almost a year. Finally, we are back on track. Towards new adventures. Every day something new. The family spins. The motor hums pleasant. It was worth the wait. The new parts seem to be worth the money.
Log book: Today's distance: 40 km. Sailed time: 10:10 a.m. to 17:00 = 7 hours. Locks: 8 pcs. Weather: Heat wave. Today, only up to 34 degrees to 36 degrees on Friday and Saturday.