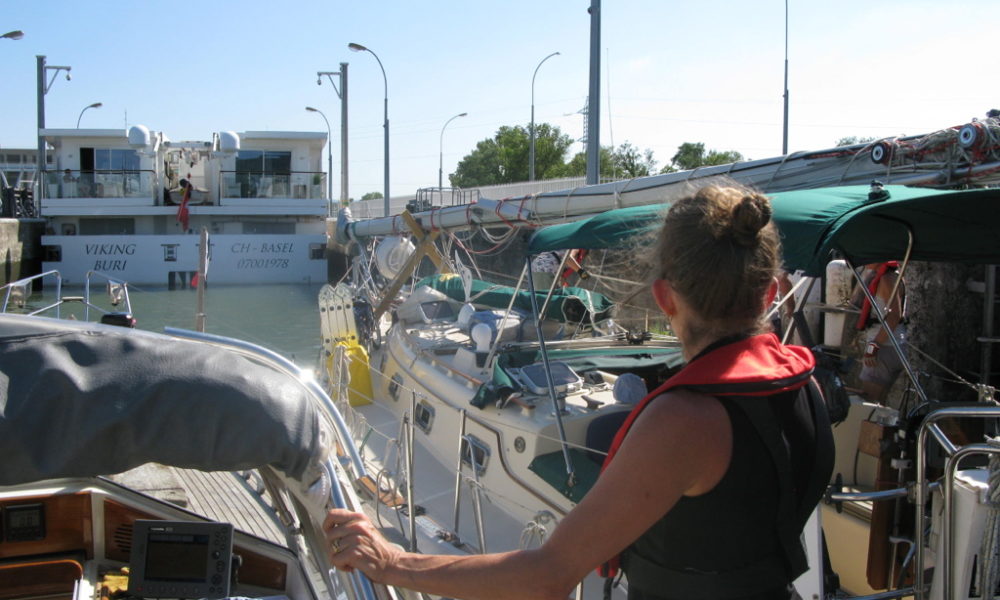 44° 40′ 28.6536" N
4° 47′ 12.012" E
July 23, 2015
When sailing, you should regularly remind yourself that you can plan as much as you want. But in the end it is still often the weather, boat, locks, port conditions and the waters you are sailing in, that determines your sailing progress.
We planned to sail to Valence, one nice long day sailing 70 kilometres with three of the Rhone rivers giant locks along the way.
As we reach Valence, we see a sign, that warns of a water level in the harbour-opening of just 1.5 meters, but we think it is a mistake, because the card says, it is two meters deep. That is "plenty" to our draft of 1.75 meters.
It is not an error. Right in the port-hole we get stuck. We cannot go either forward nor back. Ronja succeeds, however, under her own power to wrench us free, and we are seeking out again into the river, while Hanne calls the harbour master and asks for advice for a port with better depth.
He recommends us to sail to Cruaz, which is 33 km and two more giant locks further down the river. And when we reach Cruaz our problems begin again. We find it hard to read the signs on the site and it results in a few groundings. We hit something hard, that the card is called Epis and causes the boat to heel suddenly and violently. We have no idea what an epis is but understand very well that it must be some kind of underwater piles of wood or steel (it turns out on the notice boards on the web, that it is some power-absorbing structures of poles).
Worse still: When we finally understand the signs correctly and reach the harbour entrance, we are totally stuck in sand and mud. We are only 20 meters from the first pontoon in the harbour, we can see that there are large ships there. But we cannot get through. And actually we cannot get back.
We are struggling. We let the engine run us forward. We let the motor run in reverse. We turn the steering wheel to move us clear of the ground. Hanne and Kirsten promptly hang out on one side of the boat and weigh it down as best they can. And finally. After several nerve-racking minutes we break free.
We sail back to the last gate and ask the gate attendant for permission to use their small pier for the night. It has enough space for two boats, which is fortunate as shortly after returning the the British boat "Freedom Found" came back to the lock. It extends only 1:40 and could not make it through the port hole in Cruaz. No wonder we could not either.
It is almost nine o'clock in the evening, and we are still waiting for Jørgen to come and meet with us. He left the boat by mid-afternoon to cycle back after the car in Condrieu.
Log book: Today's distance: 103 km. Sailed time 8:00 to 21:00 = 13 hours. Locks: 5. Weather: Roasting hot. The helmsman has only an umbrella to provide some shade. During the afternoon there will be wind, and that makes the situation more bearable.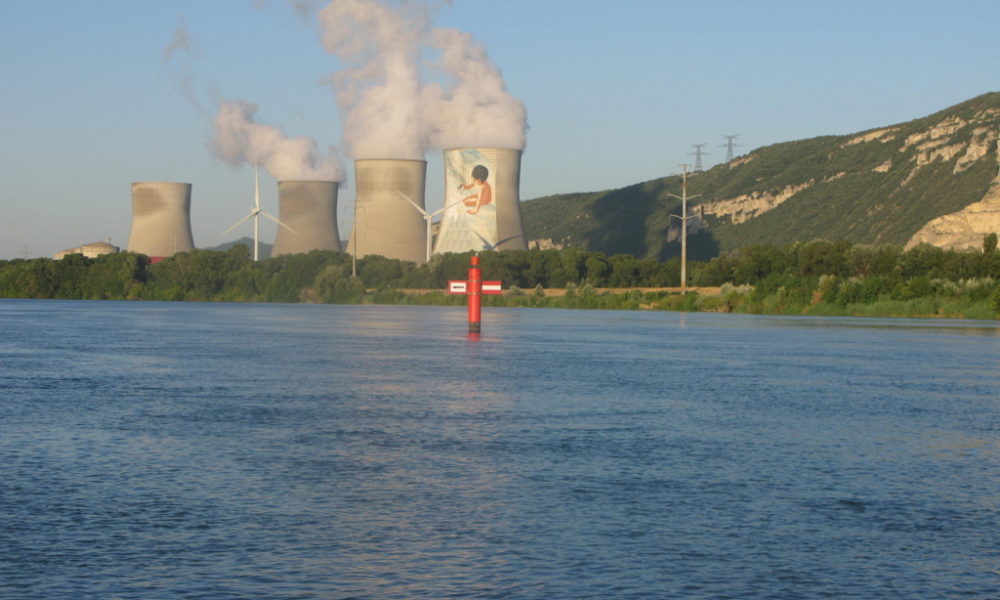 45° 27′ 17.9784" N
4° 46′ 22.2276" E
July 22, 2015
We have to get out on the river to get som fresh air. We sail for Condrieu and find an excellent port of Les Roches-de-Condrieu. An excellent port captain leads us into a berth with deep enough water, and he helps us find a marine electrician, who can change one of our batteries. We agree for the electrician to come at seven, and a miracle happens. He actually comes at seven o'clock. A french craftsman, you can rely on. What happened here?
Rhone is a different experience than Saône. Rhone is great and mighty. Majestic but also more deserted. We had just gotten used to the many anglers along the banks of canals and Saône, but on the Rhone we do not see a single one. Our first thought is that it has to do with the high degree of industrialization along the Rhone. Large nuclear power plants replace chemical production plants and other industrial facilities. Rhone is also more wild, as it has branches and entire tree trunks in the water.
On the other hand, we are beginning to hear the cicadas. We did not hear one single one before Lyon. Now the air is full of cicada songs, and though the blast furnaces are disfiguring the landscape, it is still beautiful with mountains, vineyards and charming small river towns. We are in the home region of Cote Rotie – one of the Rhône vallies very best wines – and most expensive.
Last on the day Jørgen and Hanne arrives. They are going to follow us to the Mediterranean, and later we will drive together back to Denmark in their car, with a single hotel-accommodation in Eguisheim in Alsace. We celebrate the reunion with dinner at Restaurant Bellevue right beside the harbour.
Log book: Today's distance: 41 km. Sailed time from 10.00 to 13.30 = 3 1/2 hours. Locks: 2. Weather: Hot day – more than 30 degrees – but late afternoon thunderclouds draws together. They provide wind but only a few drops of water.