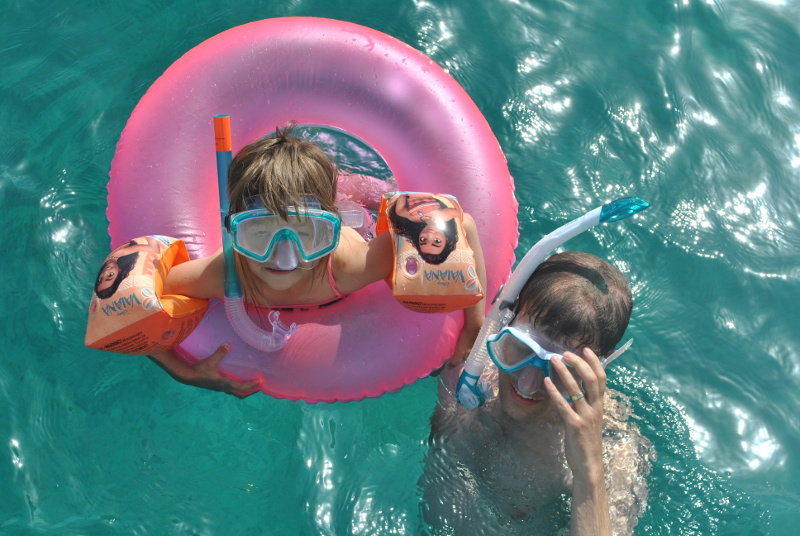 40° 51′ 39.9384" N
9° 39′ 23.1012" E
July 9 to July 10th
The weather forecasts of the Mediterranean countries are, as the wind blows, somewhat uncertain. We usually check three weather forecasts: Meteo Consult Marine (which is French), Wind and Sea (which is part of the Italian Lamma weather service) and Windfinder. When two out of the three seem to agree, we believe in it.
However, we should not have done that, when we – with our newly arrived son and granddaughter – sailed out in the seven mile long Golfo di Olbia to round Capo Ceraso and head south to find an adventurous anchorage.
Weatherforecasts predicted 5-6 meters pr second. It turned out to be double up. And even more, as we rounded the "horn", Capo Ceraso. It felt a little Cape Horn-like, mostly because it was in total contradiction to our desire to give five years old Nellie a great experience of how safe it is to sail in grandma and grandfather's boat. Clouds pulled up, waves flushed over the forehead of the ship and all the way down to the cockpit. Sometimes we made a speed of less than two knots, because current and wind were working directly against us.
As long as the adults are not afraid, children are not afraid, and we got an okay trip despite the weatherforecasts, and after a little more than four hours of sailing, we could throw our anchor in the southeastern part of Porto della Taverna, on five meters deep azurean blue water, with good shelter and straight in front of an enchanting beach.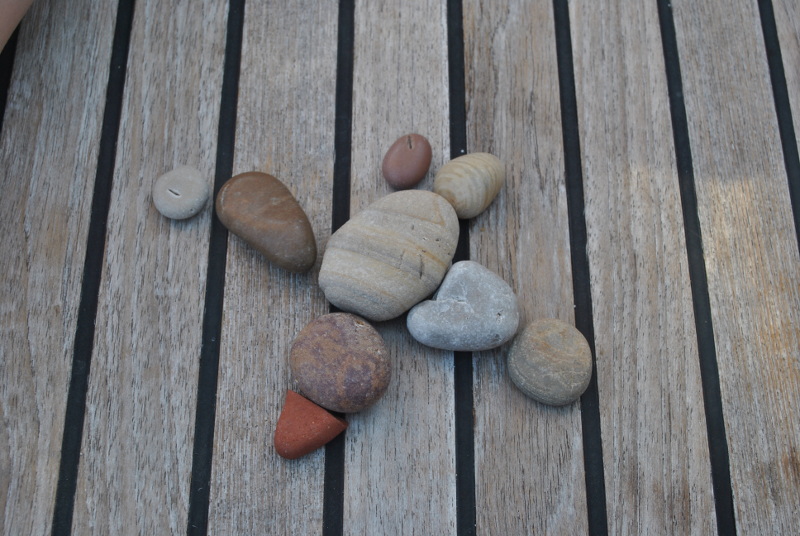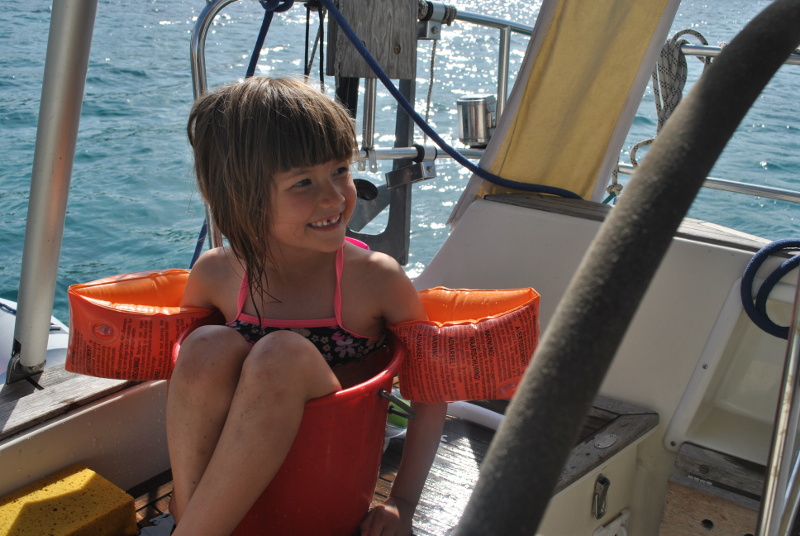 Toys for kids when the tablet was left back in Denmark. Stones in different colours can be used for lots of games, and the bucket will secure a certain coolness
A wonderful anchor bay indeed. Indescribably beautiful and totally suitable for all kinds of playing in the water with our inflatable boat, bathing-ring, swimming wings and snorkeling equipment.
Bonus info: We believe that the bay of Cala Coda Cavallo, three miles further eastsoutheast, may be even better as anchorage, when the wind is blowing from the southeast.