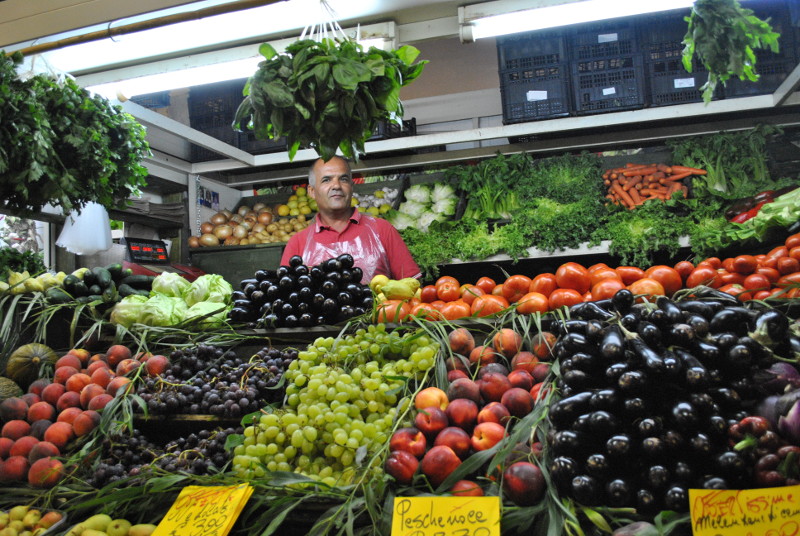 39° 12′ 2.3328" N
9° 7′ 33.8772" E
July 19th to July 28th
"Are you off to Sicily tomorrow? Take plenty of seasickness pills," recommends our Australian neighbours. They have sailed for three years non-stop in the Mediterranean, and one can't rule out, that they know what they are talking about.
"We have decided to wait until Friday," says our French neighbour to the other side. He just got his wife and two grandchildren on board, and we had – more or less – planned to sail off to Sicily at the same time. A trip close to 182 nautical miles eastsoutheast, 30 to 40 hours of sailing according to the conditions of the wind.
"We are also waiting till Friday," says the Italian sailor mooring on the other side of the pier. He thinks that one-and-a-half-meter high waves are somewhat above his level of ambition.
We go to the harbour captain. Let's hear, what he says: "Wait for tomorrow," he recommends. The last days of strong breeze are decreasing, but still the waves are high on your way to Sicily.
We do not have anyone to impress with our daring style. We are not even in a hurry. We've just – once again – been blown in for four days, and we were so much looking forward to Thursday. But okay. Now it's going to be Friday instead. We'll spend another day in Gagliari, the main city of Sardinia.
Gagliari is a large provincial town, about 200,000 inhabitants, and a total fuck up of city-planning, where everything is planned to please private car drivers, and where it may be possible to walk around but impossible to go by bicycle. The city has miles of beach, but to get to this and home again, we have to lift our bikes across the car guard several times and cross the highway traffic. Signs about where to go? Forget about it.
The city built a pedestrian promenade of several kilometers for pedestrians and cyclists. A very popular place for kissing lovers, and the huge harbour basin is the hunting arena for dolphins, forcing small fish into a corner of the harbour.
This promenade is only a few years old. Nevertheless, the gang-boards are loose and the fence towards the harbour is in the process of rusting.
This is also Gagliari. A city that does not really catch up with time.
We live in Marina de Sole, one of Gagliari's many harbours. We went there, because we could see on the web, that many other long time cruising people go to exactly that harbour. Here again we are surrounded by gang-boards, wrecked yachts, a primitive port office in a tent and a toilet, that threatens to topple in the harbour, partly because the toilet bowl is loose and partly because the toilet floor is leaning down towards the harbour.
However, Marina de Sole wins over time. There are many long-distance sailors in that port. There is a fine atmosphere. The captain and he his staff are very helpful. Even the potentially destructive toilet, they take control over. They mold a new floor. The toilet bowl is fixed. My soul what more could you possible want?
Bonus info: Port money can be negotiated. First draft from the port in Gagliari is 50 € per day. We end up paying 33 € per day. Gagliari is said to have Italy's largest fish market. It's sumptuous. From swordfish to oysters. Upstairs they have a vegetable-, cheese- and meat-market, which beats most, of what we have seen till now. The market is not easy to find. But do ask for it. It is definitely worth the effort. We found satisfaction in visiting Sardinia's National Archaeological Museum. You either like that sort of thing or you do not. We do. Best pizza we got at Pizzaria Sardegna. Best dinner we got at Bistro Fork.