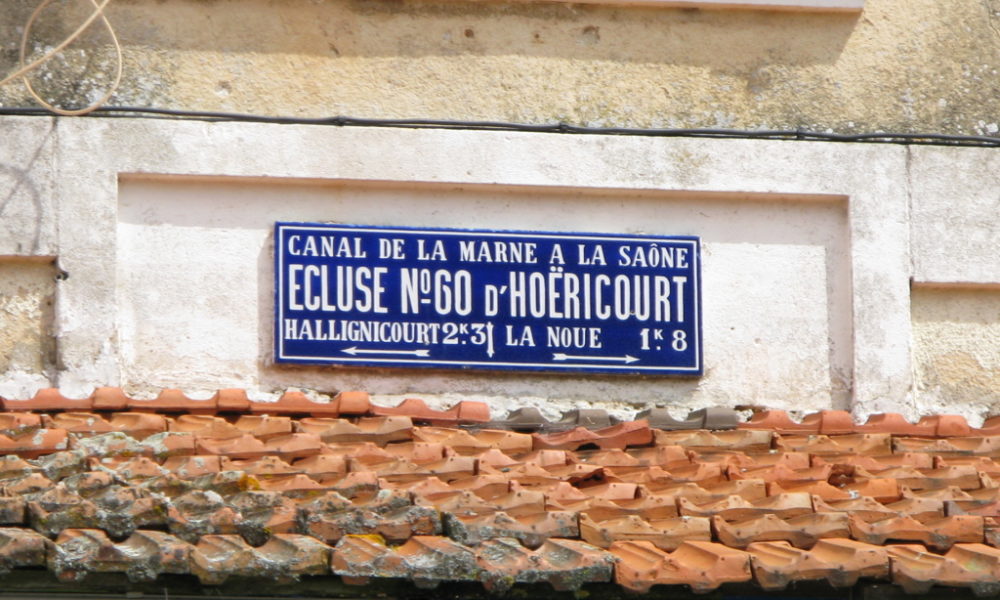 48° 43′ 33.9132" N 4° 35′ 8.682" E
Wednesday – July 8, 2016
Up early to go in and experience Vitry-le-Francois. We start with the playground at the town hall. Swings, slides and hopscotch. Simple but just what Nellie wants. As we pass the open windows of the town hall – a magnificent piece of classical mansion – we see that in several offices are typewriters. These analog, old-fashioned, mechanical appliances from the previous century. We also see computer screens. Anyway, typewriters in 2015? Sigh.
We eat croissant and drink coffee at a cafe. We buy Lego Friends, and we buy a long-sleeved shirt to protect Nellie against mosquito bites, and as a precaution also buy additional children's patches, as they has been shown to have a strong psychological effect on itchy mosquito-bites. Especially those patches that have airplanes on them.
We break up at 2 p.m. There is pretty much wind. But we are a sailing boat, created for the roaring oceans. We say goodbye to our American neighbours and wish them good luck with their transmission shaft. In some way we sense that our own story with a broken shaft and many months of traumatic trouble with the French mechanics did not reassure them. Sometimes you have to just leave them to their own experience, even if you have experienced similar.
Now for the Canal entre Champagne et Bourgogne. 224 km with 114 locks and a nearly five-kilometre long tunnel along the way. It was formerly called the channel "Canal entre Marne et Saone" but one bright person at a tourist office probably got the idea to rename the channel to something with champagne and burgundy, so now it is called so – although Vitry has no more champagne-growing, and at the other end there are no single burgundy-fields. It is stagnant peasant country. Cereals and cows.
The French are not consistent. The old name, "Canal entre Marne a Saone" still occur on most signs along the canal – signs that are one hundred percent written in French. All information. All instructions. All brochures on the channel. Everything is in French. Only French. Stupid.
The French would not dream of sailing on the canals themselves. Well, except for one or two. It is Americans, Australians, British, Germans, Belgians and especially Dutch sailors that man the French rivers and channels in a fleet of converted barges, custom-built riverboats, lavish motored  and castrated sailboats – including one from Denmark. We meet – virtually – no sailors from France.
Would it then make sense to make signs communicating in English or German? Yes, by God. But the French would not dream of it.
We sail to Orconte and stop at a stump berth surrounded by cornfields, trees, anglers and bird song. The only other boat at the dock are our friends from the UK, a young couple – on leave with their two children. Nice, Nellie is among friends and spends the evening with Bertie and Elisa.
Log-book: Today's distance: 14 km. Sailed time 14.00 to 17.30 = 3 ½ hours. Locks: 6 pcs. Weather: autom-like. We woke up to the leaves falling from the trees. The wind is cold. The sky is grey. The heat wave is blown away. Back to normal?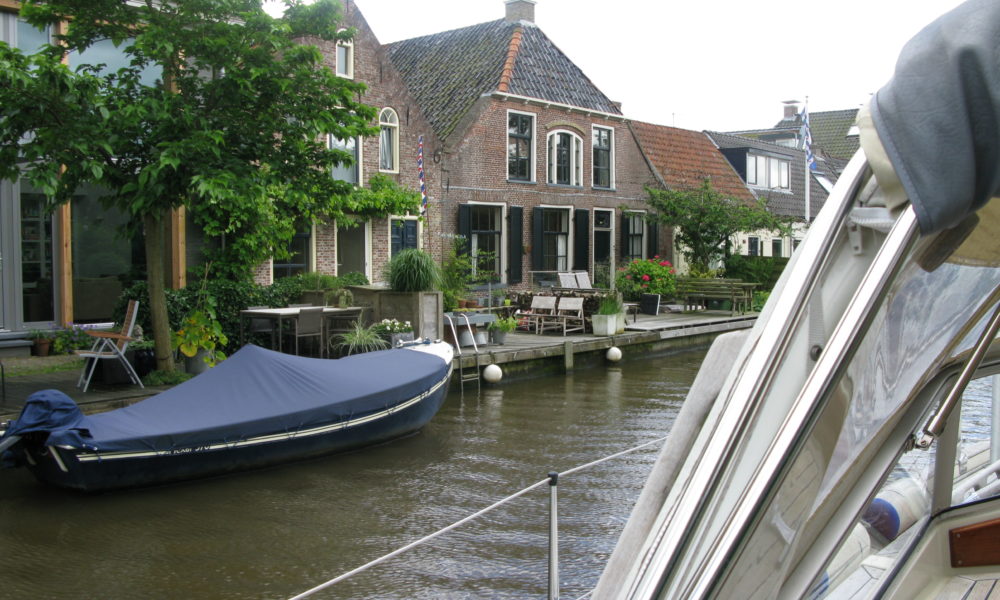 53° 19′ 51.6972" N 6° 55′ 28.056" E
After spending a few days on the German island Norderney we head towards Delfzilj. The city are chosen, because from here it is possible to sail "inside" Holland, through a system of channels, that you can pass with your mast still up.
Five days – including two resting days – it took us to sail from Delfzilj to the great dutch lake called Ijselmeer. We passed 49 bridges and five locks. It worked perfectly. The bridges goes up, when we approach. As a rule. Sometimes we call via VHF. Some bridges charge a toll – five euro put in a wooden shoe, hanging from a fishing rod, which a bridge-employee lowers down towards us.
On our way we pass the one idyllic dutch town after another. The houses are located with manicured gardens facing the canal. The flowers are in full bloom, and on the edge a lot of boats are moored.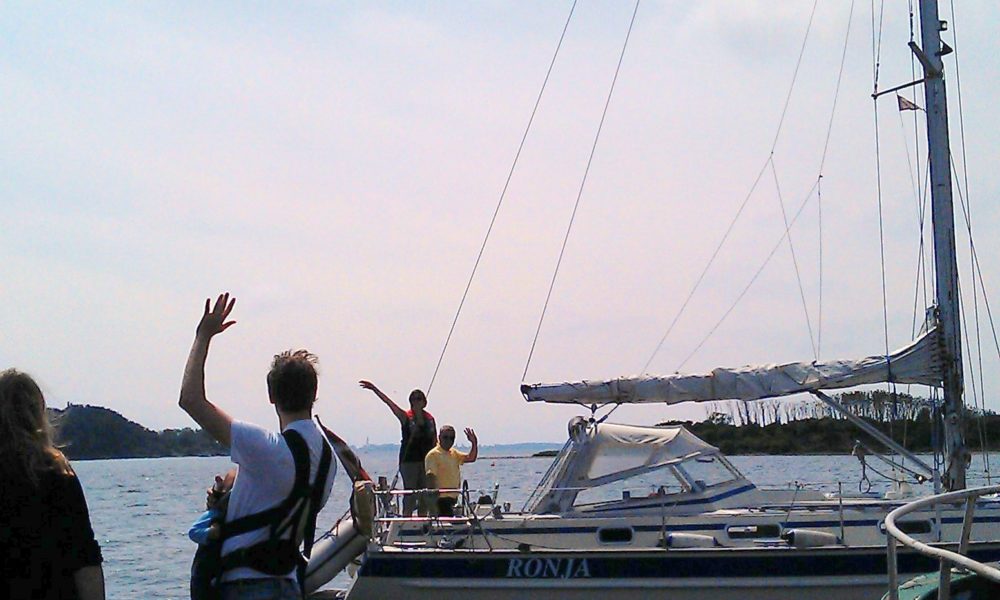 55° 2′ 23.082" N 10° 40′ 23.3076" E
July 5. – July 9, 2012
Five days ago Ronja left her permanent home port in danish Thurø Bund.
Lasse, Tianling, Nellie, Emilie and Molly waved goodbye from the pier, when we left on July 5.
After a short stop on danish island, Marstal, too meet with Hanne and Ebbe, the wind is favourable for Kiel. Ten meters per second from northeast, and 35 miles later we call Düsternbrook Marina in Kiel.
We do some sightseeing in Kiel and use a day for cleaning and minor repairs on the boat and the purchase of charts.
Sunday morning we go through the lock in the Kiel Canal, along with 10 other sailors and a giant container ship. It's a bit scary to be in the same lock with such a huge ship.
Kiel Canal is 100 kilometres long and with german precision the distance is marked with kilometre signs for every half kilometer. Although the channel as such is rather boring to sail on, we enjoy the good weather and the fact, that we are now heading out towards the big oceans.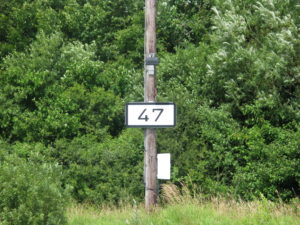 After a short and heavy thunderstorm, the wind reaching 16 meters pr second, we call Brunsbüttel after 8½ hours sailing with the motor. Here is a small marina, located just before the lock out to the river Elbe. From our berth we follow the flow of huge ships going through the locks both day and night.
Brunsbüttel do make you a bit depressed. We meet lots of oil tanks and chemical factories. On the brink of the marina is a small restaurant, "Torhaüschen". It has three palms standing in great pots in front of the restaurant. We are approaching the south?