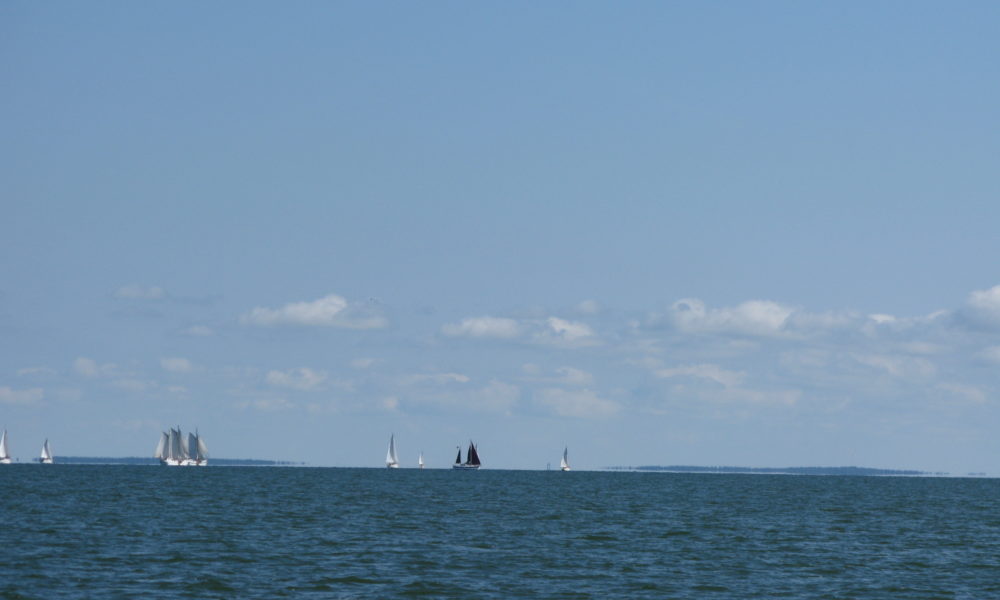 52 ° 42 '15.0948' 'N 5 ° 18' 1.0188 " E
22 and July 23, 2012
They are crazy, the Dutchmen! The bakers are closed on Sundays and on weekdays they open frequently as other stores.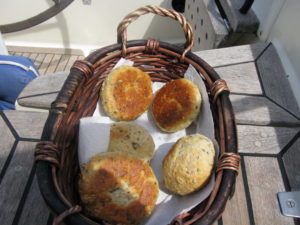 While Kirsten turns dough up to own morning buns, we head towards Enkhuizen. It will be a perfect day for sailing. The wind is in front of the cross. Ijselmeer is smooth, almost uniformly deep (read: low). All the time a meter or two below the keel.
The sun shines. Soon we thing, that we can see Enkhuizen. "Look, they have cliffs," says Kirsten. It turns out to be a huge forest of masts. Enkhuizen has six to seven ports, the port we call, has room for 700 boats. Never have we seen so many sails on the water as in front of Enkhuizen. The city has a reputation as being a sailors mecca. After weeks of rain all sailors are going to the see to have som air in their sails – like cows when they are let out of the barn on the first day of spring.
We take an extra day in Enkhuizen, which starts with a jogging tour around the city walls. It is a charming city. Perhaps the most beautiful of the canal towns we have seen so far.
We also visit an open air museum "Zuiderzee Museum", which is a really good museum, very active, interesting.
Log book: Departure 8.30. Destination: Enkhuizen, Arrival 11:00.
52° 39′ 34.3728" N 5° 35′ 48.8904" E
July 21, 2013
We take a morning run of 6 km. along the water and underway we check the two lock options to get out in Ijselmeer.
The weather is fine. We are considering a day of rest, but we decide anyway to sail. We have spotted a store, where they may have Raymarine charts. The store is on the way out to Ijselmeer.
Since Delfzijl we have not had life in the chartplotter. And now a brand new chart bought at a store in Lemmer does not work either. What is happening? Back to the store again. We want our money back: 249 Euro.
We really wanted to go to Enkhuizen on the opposite side of Ijselmeer, but the wind would rather lead us to Urk on the same side as Lemmer. We are in need of a good sailing under full sail, so we let the wind determine. And the wind point us to Urk.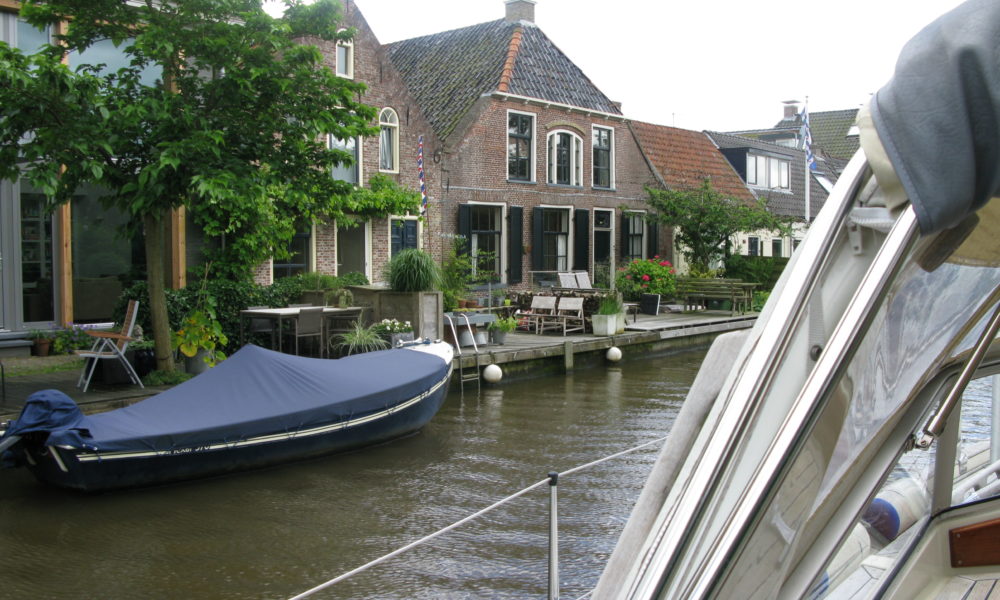 53° 19′ 51.6972" N 6° 55′ 28.056" E
After spending a few days on the German island Norderney we head towards Delfzilj. The city are chosen, because from here it is possible to sail "inside" Holland, through a system of channels, that you can pass with your mast still up.
Five days – including two resting days – it took us to sail from Delfzilj to the great dutch lake called Ijselmeer. We passed 49 bridges and five locks. It worked perfectly. The bridges goes up, when we approach. As a rule. Sometimes we call via VHF. Some bridges charge a toll – five euro put in a wooden shoe, hanging from a fishing rod, which a bridge-employee lowers down towards us.
On our way we pass the one idyllic dutch town after another. The houses are located with manicured gardens facing the canal. The flowers are in full bloom, and on the edge a lot of boats are moored.