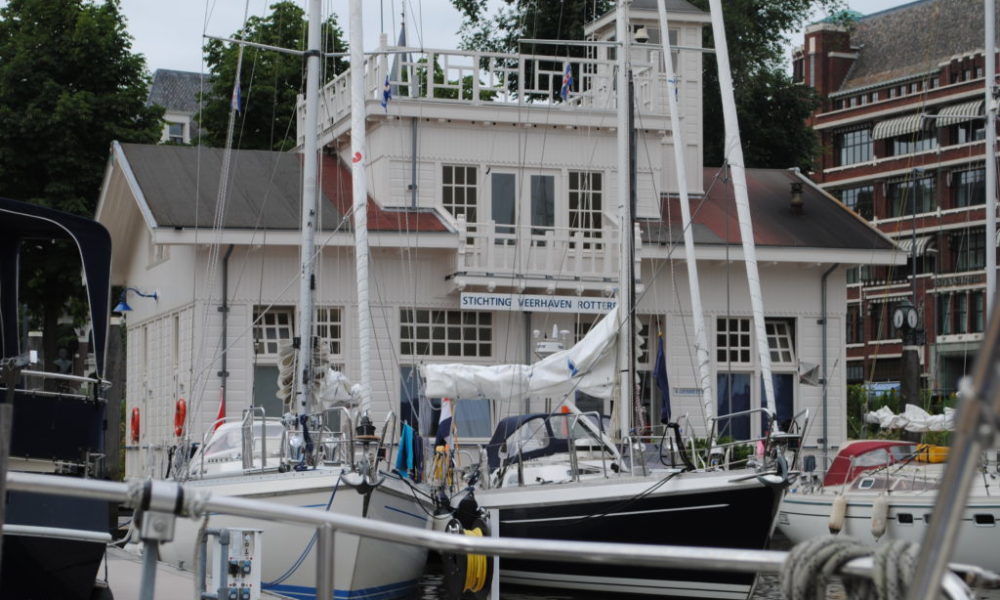 51° 54′ 33.7644" N 4° 29′ 57.264" E
12. juli 2013
The exit through the port of Rotterdam is indescribably exciting. Dynamic. Everything is incredibly large. The cranes, docks, tugs and warehouses. Kilometre after kilometre this huge port stretches itself. Through thirty unbroken kilometres side branch follows side branch, docks follows docks, crane follows crane. The largest port in the world? It is likely.
Cargo ships entering. Cargo ships on the way out. Huge. Small. Crawling into and out of the side channels. In the beginning only a few. During the early morning it becomes more. The port awakens. Rotterdam is in the process of getting the day into gear.
We got up at 6:30 and said goodbye to Rotterdam before the clock hit seven. The harbour master in Stifting Verhagen Rotterdam – in combination with our own still a little hesitant calculations – told us that we get the most nudge in the back of the tide, if we start a little before high tide in Rotterdam and capture the southbound tide at the Maas River estuary off the Hoek van Holland. We do. The plan works.
Seven knots and later eight and a half knots, our speed through the English Channel, where we changed to go by sail in stead of motor, while we blissfully eat Kirsten's homemade muffins with Dutch cheese and Italian sausage, sleeping half an hour alternately and otherwise enjoying a leisurely sail. High speed but completely under control because neither wind nor wave height is scary.
The Dutch have mastered the security of their inland waterway system. We change dutifully channel on VHF each time a sign on the country proclaims, that VHF channels now change to a new number, but we fail to call the station every time we come to a new VHF station, which had been recommended by the harbour master of Rotterdam City Marina. We sail gently. We are in control. Big brother in the Maas River control towers do not hear from us.
On the way out of the Maas exit we get called by a control tower.
"The yacht that just left the harbour entrance please report!"
"Ronja here!"
"Southbound or northbound?"
"Southbound"
"Have you seen the vessel just behind you?"
"Yes, we are intending to cross the traffic-line, just after they pass"
"Two more ships are coming in, please wait and keep to this channel."
Later, we are contacted again by the control tower and asked to turn to the south, after the last of the two incoming vessels have passed. The vessels are sailing in columns on the deep-water route to the Maas River and Rotterdam. The day is really waking up. Rotterdam moves up a notch, while we have said farewell to a dutch adventure, that has lasted almost a year.
Log-book: Sailed distance: 75 nautical miles with the tide in the back of the Maas River and down to South Holland and Belgium. Time: Departure 6.50 from Rotterdam. In Zeebrugge, Belgium, 17.00. Crew: Kirsten and Per. Weather: North western wind maximum 7 meters per second. Wave height: 1 meter
52° 50′ 33.3672" N
5° 42′ 16.956" E
July 20, 2012
Fantastic day. Everything works. The bridges are opening. The rain obviously hold a bit back. And the waters are nothing short of exciting. Packed traffic. Cities that are architect-designed to let each home have its boat in the front yard. Channels crisscross. Lakes. Large and small. A tangle of intersecting ships. If we thought Denmark was a sailing nation, think again. Holland controls for game. Everything here is about sailing.
We find a port. Calm. Just outside Lemmer. We are checking out the town, and eat in the port restaurant. And we enjoy the most luxurious bathing facilities. Hot shower in six hours if desired.
Just before Lemmer we pass a Danish sailing yacht, sailing the opposite direction to us. Virtually everyone we meet are Dutch or Germans. But this guy yells: "Is it Ronja? Ronja from Thurø?" It turns out that they are themselves from the small harbour, Thurø Bund back home. "Hello there!" And then they are gone.
Everybody talks about the weather. In our port are many Germans. They are talking clearly about maybe going to Mallorca in stead of Lemmer.
Log book: Departure 9.00. Destination: Lemmer. Arrival: 13.00.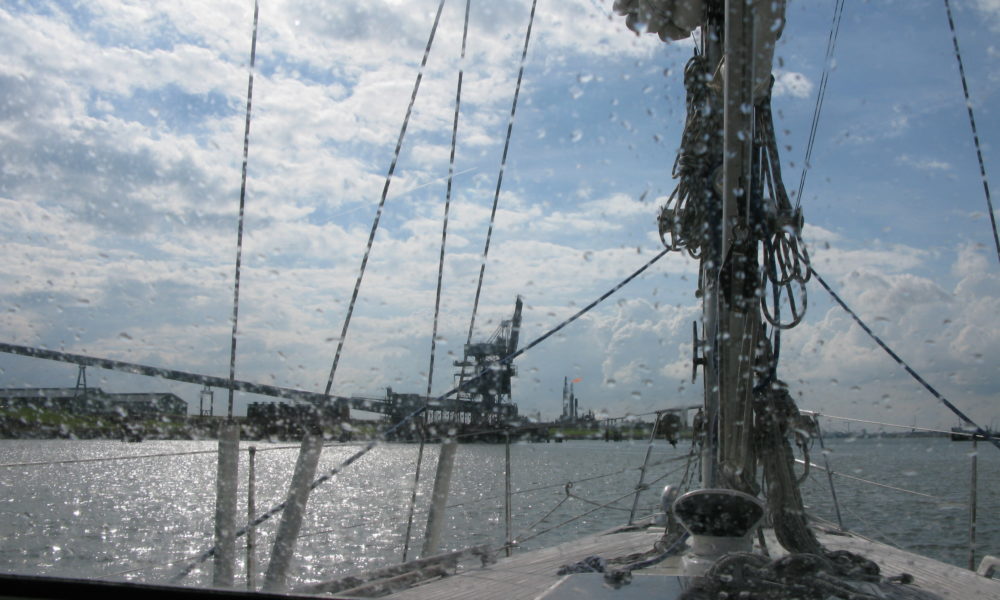 53° 19′ 48.864" N
6° 55′ 51.1176" E
July 15, 2012
Up at six o'clock. Immediately we start. We follow Jörg's advice. Beautiful morning. Even with small pieces of blue and glimpses of the sun. But the wind is again contrary, and waves are higher than we know from home.
We are – mildly speaking – uneasy in the sea. We have to pull op the main sail to stabilise the boat's movements. Per would like to go on deck and hoist the sail, but Kirsten insists that it's her job. She believes, that the chances are greater, that Per can save her from the water, if she falls, than for her to save Per.
Jörg's schedule does not hold at all. It takes us six hours to reach Borkum, not four. In addition it takes a few hours to round this island, and we completely misses the tidal push in the Ems river, which should have given us an extra four knots on our way to dutch city Delfzijl.
Ems River is depressingly sad. Huge power plants dominates the entrance. And with no other boats on the water all seems desolate and bleak. Add to this the constantly gray weather.
On a "plaat", as the Dutch call the surfaces exposed when the tide recedes, we see a seal. Further along the same plaat are a bunch of tourists boarding a ship after having been on a Wadden Sea tour.
Tide is a strange phenomenon. Now we have sailed in it for a week, and we still do not understand it completely, despite practical experience and tons of tidal informations.
But it is no longer quite the mystery, that it was before, we set keel into it for the first time.
Our first observation is, that you can avoid it at a great lenght. If you consciously opt the areas being reclaimed and ensures, that the depth even at low tide is ok, then only remains the question of getting more or less push out of the tide. The one and a half knots with or against, that we have known at home in Danish Svendborgsund may well in these waters be four knobs counter or co-current flow. It can turn into an advantage, and it can turn into a disadvantage.
Our second observation is that certainty about the current status of high tide or low tide can make it possible for you to pass areas where you otherwise would think: "Damn it! Here is not deep enough." Proper planning gives you opportunities. Jörg gave us a copy of the program "wxtide47" that graphically tells you, where you at a given location are in the tidal cycle.
Our third observation is, that both the Germans and the Dutch have developed amazing engineering skills in creating tidal ports where pontoons rolls up the barrows, telephone pole-like pillars, and you can sleep sweetly, while water moves both two, three, four or more meters up and down below you.
Our fourth observation is more of an assertion: It does not matter if you get stuck on the ground, because if the tide is with you, eventually it will set you free again.
Delfzijl is a pure, unadulterated industrial city. But the city's marina, Neptunus, is prima. We sleep well after 12 hours in the high waves.
Log-book: Sailed 6.00. Destination: Delfzijl in the Netherlands. Arrival 18:00. Weather: Wind from the west 10 meters per second. Almost contrary to our sailing direction. Big waves. Hammering up and down. Tiring sailing.