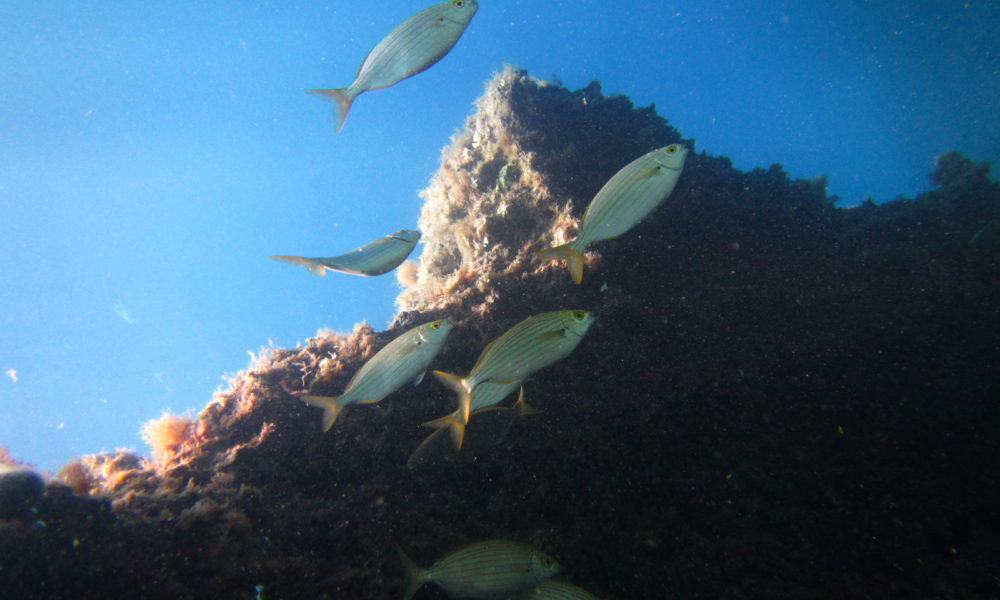 40° 7′ 26.2344" N 9° 40′ 35.346" E
July 12th
Guest blogger: Lasse Folkersen, guest crew member
Ronja-round-the-world is about water and anything related to water. This blog post is about what happens under the sea. As guest-crew on Ronja, along the eastern coast of Sardinia, we had already experienced the majestic cliffs and fantastic beaches offered by the island. But a stay-over day in a harbour with a dive-shop gave the opportunity to expand this into scuba-diving. I have most of my dive-experience from the warm colourful waters of South East Asia and I was unsure what to expect from Mediterranean diving.
I was not disappointed; everything is different, and in some ways less 'saturated' – but not at all in a bad way. Of course there are colourful fish here as well, but what I find most attractive is the synergy between the odd-shaped rock formations and the pure white sand. The white beaches of Sardinia in fact continues below the waves, as sandy paths into a maze of underwater tunnels with colorful plants all set in the ever-present Mediterranean azure-blue light from above.
Bonus info for sailors: If you are sailing in the area north of Arbatax I recommend taking the time for one or more short visits at the beautiful but road-inaccessible beaches. They are not well suited for night-time anchoring, particularly not with strong winds. This is probably the reason why they are not shown in anchor-guide books. But for good reason the beaches are popular destinations for local land-based tourists, using chartered inflatable boats. So many people do this that the beaches are overcrowded in times between arrival and departure times. This, however, is the freedom of having your own boat – and so my best advice is to contact a local tour-agency and ask for their destinations and times; and then go to that place, at some other time than them. At Cala Mariolu, between 1pm and 2pm seemed fairly empty. On arrival, then anchor and swim or row in. That'll give you pristine, beautiful, secluded and non-crowded beaches.
Bonus info for scuba divers: I can highly recommend "Diving Cala Mariolu", which is a tiny diving-operation consisting mainly of three umbrellas, a solar power array, and a few diving guides with a stock of pre-filled air-tanks. All in a very ad-hoc and accessible manner set up directly on the beach. Very straightforward, and actually nicer than some of the larger operations seen elsewhere. I was particularly impressed by dive-instructor Andreas: he managed to be both guide and photographer at the same time, while seemingly also having the overview of the above-water operation. One dive, including all equipment and photos: 60 €. It's a little colder than South East Asia. Already at 12 m, a short sleeve 3 mm wet suit definitely felt too cold. I also had a booking with Aquatica in Santa Maria Navarrese, but due to a miscommunication I went to a wrong boat from that company, and so I never had the opportunity to see if they were recommendable dive guides.`