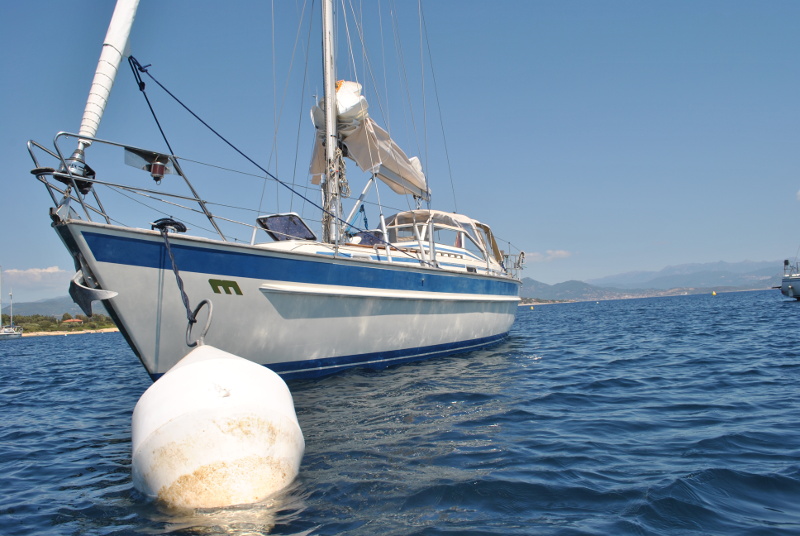 41° 40′ 34.4028" N
8° 54′ 3.4524" E
Wednesday 21th of june to Sunday 25th of June
Fantastic sailing day! We set off from Cargése in the early morning and immediately set sail, even though the wind is weak, and now it's time for morning coffee. The wind increases during the day, and eight hours later we reach Porto Pollo after an absolutely enchanting day at sea. Dolphins have played alongside the boat. One mountain scenery has replaced the next.
Porto Pollo means "the troubled port", and it got its name many years ago, when the city was a favourite target for pirates in the area. You don't see many pirates these days, but the city is obviously preparing for a giant invasion of sailing tourists.
The town itself is small, almost dried up – and honestly quite boring – with its only 100 permanent inhabitants. On the other hand, it is blessed with mile-long beaches, and along these hundreds of buoys are laid out to welcome the invasion of sailors.
We are here outside high season, so less than every tenth buoy is occupied. The price for a buoy outside high season: 20 €.
After two days of lazy life outside the Porto Pollo beach, we head for Propriano – a bigger city with a real port and 3200 inhabitants.
As always, we prepare ourselves for a new destination, and read in the guidebook, about a dynamic coastal city with a maritime atmosphere and great beach life. In our "bible" during the sailing trip – "Mediterranean France & Corsica Pilot" by Rod Heikell – we find a different and more interesting angle. He writes, that for decades Propriano has had a dubious reputation. In the 1950s, the city was referred to as a city to avoid, where innocent locals were being murdered, and a local fisherman killed the Coast Guard, when he was charged for fishing with dynamite.
Propriano apparently has a large catalogue of violent crimes. As late as april 1990, the liberation movement, FLNC, blew one of the city's restaurants up.
We ourselves experienced the city as quite peaceful. Good restaurants. Nice beaches. And amiable Frenchmen.
Bonus info: Try eating at Tempi Fa, close to the harbour. It is – according to Tripadvisor – the 39th best of 2,192 restaurants in Corsica – if you rely on review sites like that. During the daytime Tempi Fa offers wine and tapas and in the evening solid Corsican dinner dishes far behind the wine cellar. Tempi Fa is build around a wine bar with exclusively Corsican wines. We had the best red wine so far on our entire time in Corsica. Granite is the name of the wine. Very complex. Full of character. It is an appellation Ajaccio Protégée, but it is produced close to Propriano, which does not have its own appellation. A votre santé!