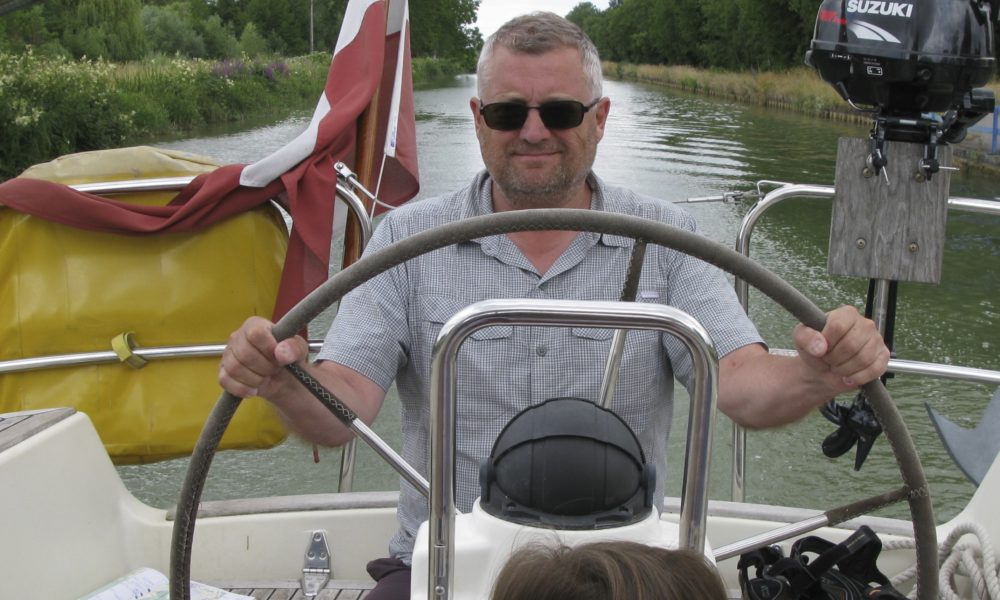 48° 58′ 49.8324" N 2° 2′ 12.2208" E
July 4. – 2014
We sail from Poissy-sous-Carriere at lunchtime. Henrik and Per  has bought food in bulk. Huge. Two stuffed supermarket carts. 24 bottles of water, beer, wine, garbage bags, disposable tableware and food for many days. Meanwhile, Susanne and Kirsten have made the boat ready and scared a million spiders off the deck and from the cockpit.
We fill the tank with diesel, pay the port captain and say goodbye to him and his son with thanks for taking good care of Ronja through the winter. It cost 250 euros extra for oil, oil filters, and battery recharging. Well, it had cost the same in Denmark.
The port's uncrowned king, Hans, get a new handful of canned beer and a hug from Kirsten. He looks like a happy man.
The trip to Paris is ok. We know the route in and out. For Susanne and Henrik it is an experience to try the locks for the first time and also to see Paris from the sea. The last – to see Paris from the sea on a Friday night – is a great experience for all of us.
Paris has just lost to Germany in the World Cup in Brazil. But it is not visible from the Parisians when we sail the last kilometres towards our destination, Port Arsenal. There's a party along the Seine quay edges. Thousands of young people sitting in groups, smoking, drinking, eating, having fun, listening to music or dancing at the special dance places. It's a beautiful experience to sail through Paris so late in the day. Party Ships. Holiday Atmosphere. Stuffed restaurants. Festively dressed Frenchmen. Great.
Log-book: Today's distance: 80 km. Sailed time from 12.30 to 21.30 = 9 hours. Locks- 4 pcs. Weather: heavy and hot.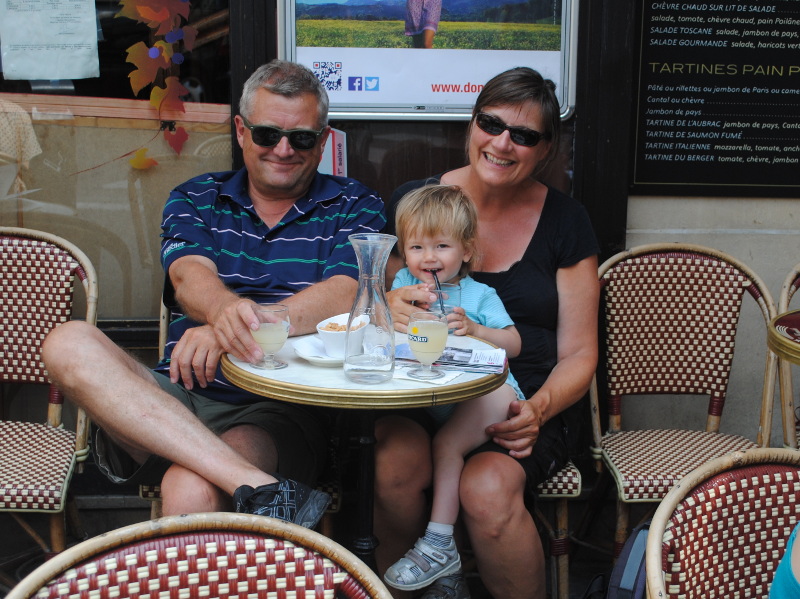 48° 51′ 3.9636" N 2° 22′ 4.6992" E
July 24.-28. – 2013
Arsenal port is located in the heart of Paris, right up to Place du Bastille. We cannot have a better starting point for a visit to this amazing city. Here there is shopping, jogging, sightseeing, dining and relaxation – all within walking distance. We are here for five nights. It costs 40 Euro per night, and the port of Arsenal thus runs with this summers price records. But it has to be like that, with only this one port to choose from, and as the harbour at the same time is perfect with its location.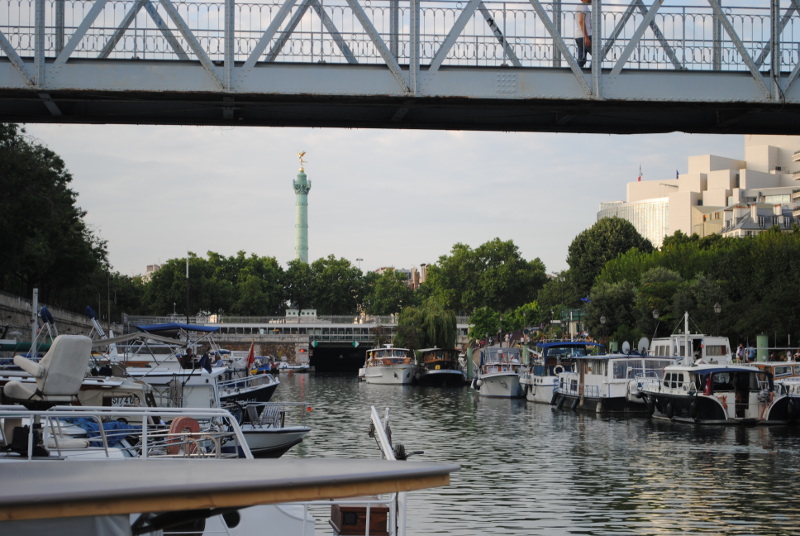 Tuesday, Wednesday and Thursday we are with Nellie, Lasse and Tianling in the sense that we are all together in the afternoons and evenings, and that we then "kidnap" Nellie and take her on the boat at night, where Jørgen and Hanne stay while Lasse and Tianling sleep at a hotel. Fine arrangement.
Lasse and Tianling arrive during the morning, and then we explore Paris. Nothing wild. One day we basically visit only the Jardin du Luxembourg. In the evening we eat us through the red Michelin-book finding the best restaurants in Paris, which have not yet been giving stars, but are eager and bubbling to get it.
On Wednesday evening, Hanne ordered Villaret near the metro station Parmentier. Also good. Not quite on par with Auberge Pyrénées Cévennes though.
On Thursday we say goodbye to Lasse, Tianling and Nellie who will fly home on Thursday night. Back on the boat, we eat bread, cheese, lettuce and sausage with Hanne and Jørgen.
The next day it is quiet. We run along the Seine in the early morning before the heat gets too oppressive. A couple of the nights we have powerful thunderstorms, but otherwise it is typically 24 degrees in the morning increasing to 34 degrees in the early evening.
We're doing things together with Jørgen and Hanne. And we also do things alone. Hanne and Jørgen take a day trip on bikes where we meet each other at the Louvre, which is open in the evening and we eat late dinner at Willie's Wine Bar near the Louvre. Excellent restaurant.
At the same time we plan for the final week of the holiday. Hanne and Jørgen have suggested that we go to Burgundy and celebrate Hannes's birthday along with a few of their friends who are vacationing in that area, and that we follow them to Denmark in their car through Alsace and Germany with the goal of being back in Denmark Thursday at midnight. But before we can call this a plan, we must have found a berth for Ronja in a safe winter harbour.
It is not easy.
Arsenal port has no room for us in 2014 and 2015, and it will anyway cost us DKK 35,000 for nine months of harbour fees, and on top of this come the months of June, July and August, when you can only be in the port at high season price of 40 Euro. With the assistance of a couple of Ebbe Dal's friends and the port captain of Arsenal and with Hanne as interpreter, we examine some possible ports both south and north of Paris, and it ends up that we decide to sail back to Port St-Louis, where Jørgen and Hanne have their car.
We must get used to the fact, that the French have a different culture surrounding their boats in winter. They do ensure against frost and they change oil. But they keep the boats in the water. Since we have become accustomed to this idea, then it becomes easier to find a winter port, and we suspect at the same time that it would be possible also to sail at other times of the year than just the summer holidays.