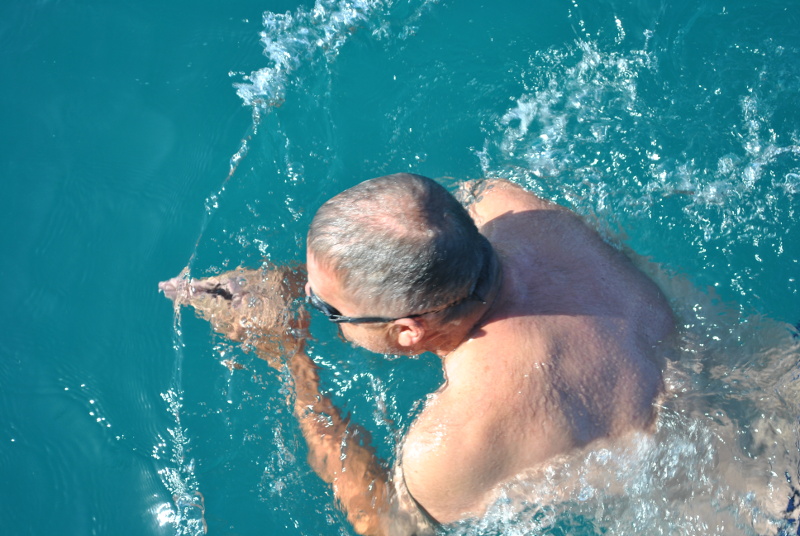 41° 12′ 40.1724" N
9° 24′ 15.7428" E
June 30th to 4th of July
Porto Palma is a large open cove with ample space for anchorage, and during the daytime you can even be part of an exciting sailing competition. Two sailing schools use the bay to practice racing for youngsters and sailing for beginners. 30 boats are on the water. We have thrown our anchor in the middle of the race course and, as afternoon entertainment, we can follow every tactical maneuver, every piece of fine sportsmanship and every failure, when a boat ends top down.
Cale Coticcio is another, somewhat smaller, anchorage cove. It is called Tahiti Bay by the locals, perhaps because of the popularity, the many day-sailors who come from nearby cities and spend the day in the azure-blue waters.
In this part of the world Palma and Tahiti have in common, that they are both part of the La Maddalena archipelago. We have reached Italian Sardinia. The two bays are located on the island of Caprera, which, together with the main island of Maddalena and 12 other islands, form a large and tightly regulated natural park.
You buy permission to be in the area. The price is 60 € per week for a sailing yacht. Nature prefers sailingboats, so we get a discount. The license gives you the right to sail and anchor in the area, when following a detailed set of rules.
The rules say, that you cannot pick flowers here and you cannot collect stones. They say do not go ashore here, unless you are accompanied by a nature-guide. Do not go fishing here. Do not snorkel here. Do not deep dive. Do not pump out water from dishwashing and showers. Do not be here at all. It all varies from bay to bay.
The rules are so complex, that we give up figuring them out. We stay aboard Ronja, enjoy the bathing life, and show our permission when asked by park officials in inflatable boats.
Especially Tahiti Bay is in the daytime a circus of whining children, shouting parents, rustling anchor chains, loud outboard motors and sailing ice cream sellers, who manage to get 5 € for an ice cream, that costs 1,65 € in the local supermarket.
At about 19 o'clock, peace settles over Tahiti Bay. The locals sail back to their home ports, and from being 70 boats we are only 7, when darkness and an remarkably clear sky with stars descend upon Tahiti. On Sardinia, that is.
The islands are absolutely beautiful, but hardly more beautiful than so many other places in the area. And we do not understand the logic of the natural park. Why do they use so many resources to check if we have paid? Why do they not use the resources to put out permanent anchor buoys in the bays, so we don't have to damage the Possidonia grass on the seabed, every time we throw out the anchor.
One might think – probably wrongly – that all the talk about a nature park is mostly about getting even more people to understand, that these 14 islands are something quite special, in an area, where numerous beautiful destinations fight for the favour of sailors.
Bonus info: Cala Gavetta on the Maddalena island is a positive surprise. Charming town, lively in the daytime, peaceful at night. We stayed two days in the harbour. The first day cost 27 € for a berth. The next day the same berth cost 56 €. Why? Because it was July 1st, and the price list changes to high season price, which is double the price the day before.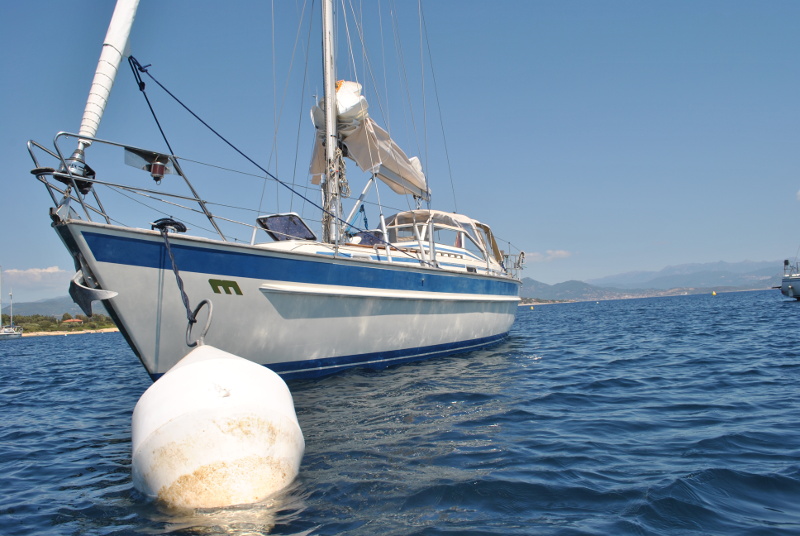 41° 40′ 34.4028" N
8° 54′ 3.4524" E
Wednesday 21th of june to Sunday 25th of June
Fantastic sailing day! We set off from Cargése in the early morning and immediately set sail, even though the wind is weak, and now it's time for morning coffee. The wind increases during the day, and eight hours later we reach Porto Pollo after an absolutely enchanting day at sea. Dolphins have played alongside the boat. One mountain scenery has replaced the next.
Porto Pollo means "the troubled port", and it got its name many years ago, when the city was a favourite target for pirates in the area. You don't see many pirates these days, but the city is obviously preparing for a giant invasion of sailing tourists.
The town itself is small, almost dried up – and honestly quite boring – with its only 100 permanent inhabitants. On the other hand, it is blessed with mile-long beaches, and along these hundreds of buoys are laid out to welcome the invasion of sailors.
We are here outside high season, so less than every tenth buoy is occupied. The price for a buoy outside high season: 20 €.
After two days of lazy life outside the Porto Pollo beach, we head for Propriano – a bigger city with a real port and 3200 inhabitants.
As always, we prepare ourselves for a new destination, and read in the guidebook, about a dynamic coastal city with a maritime atmosphere and great beach life. In our "bible" during the sailing trip – "Mediterranean France & Corsica Pilot" by Rod Heikell – we find a different and more interesting angle. He writes, that for decades Propriano has had a dubious reputation. In the 1950s, the city was referred to as a city to avoid, where innocent locals were being murdered, and a local fisherman killed the Coast Guard, when he was charged for fishing with dynamite.
Propriano apparently has a large catalogue of violent crimes. As late as april 1990, the liberation movement, FLNC, blew one of the city's restaurants up.
We ourselves experienced the city as quite peaceful. Good restaurants. Nice beaches. And amiable Frenchmen.
Bonus info: Try eating at Tempi Fa, close to the harbour. It is – according to Tripadvisor – the 39th best of 2,192 restaurants in Corsica – if you rely on review sites like that. During the daytime Tempi Fa offers wine and tapas and in the evening solid Corsican dinner dishes far behind the wine cellar. Tempi Fa is build around a wine bar with exclusively Corsican wines. We had the best red wine so far on our entire time in Corsica. Granite is the name of the wine. Very complex. Full of character. It is an appellation Ajaccio Protégée, but it is produced close to Propriano, which does not have its own appellation. A votre santé!