A beautiful sailing-trip out of Paris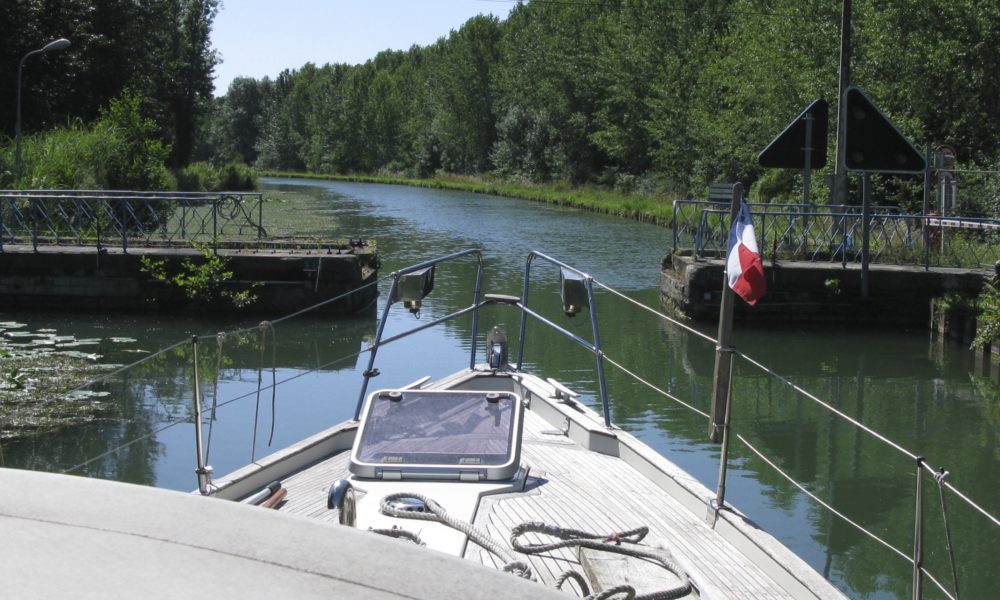 48° 51′ 8.3376" N 2° 22′ 4.6992" E
July 6. – 2014
We sail from Port Arsenal at 10.10 in the pouring rain and wearing sailor clothes from head to toe. French summer? Hmmm, it looks excactly like the heavy-rained summers in Kalvehave and Præstø, that we are trying to put back us by sailing out in Europe.
We sail through the port gate with Göran Arvedahl from Stockholm and his two new guesting mates, as they are going the same way as us. He sails in Evanna III, a Halberg Rassy 34 with a draft of only 1.65 meters, where we are 1.75. We agree with him, that he sail first, just like the penguins in Antarctica, where the older penguins send the young penguins first into the water to dive for food. If they do not come up again, it tells the elderly that is dangerous.
He is somewhat older than us, has set aside 14 weeks for his trip from Stockholm through Göta Canal, Kattegat, Limfjorden, the North Sea, the English Channel and via the French rivers and canals down to Marseille. He sails in Göran Schildts wake and follow as closely as possible the route, that this Finnish art historian described in his book from 1947, "Wish Journey" as he and his wife and a friend sailed this route with the ship Daphne from Stockholm to Marseille.
Göran Arve Dahl calls his journey "Wish Journey II" and has created a blog with that name.
It is a beautiful trip out of Paris. Much more beautiful than the entrance from Poissy-sous-Carriere to Paris, which was characterized by derelict industrial estates and decaying retired riverboats. Here there are several green areas, campgrounds, parks and private gardens directly to the river. We see many herons and some anglers but meet only a few other sailors. A few riverboats. The total number of pleasure boats can be counted on less than two hands.
We follow Göran. But after his two inexperienced crew members go wrong attaching Evanna III in a lock, whit the result, that his stern are swinging dangerously, headed directly towards Ronja, we prefer to sail ahead of him, although we follow into the locks and wait for each other.
As something new we pass two tunnels, Saint-Maur and Chalifert, respectively 597 and 294 metres. Very different. A bit like the tub pitch in Tivoli.
In the evening we get to the peaceful city of Meaux – 48,000 inhabitants and in their own understanding the Brie cheese capital of the World. The city boasts both a municipal and private harbour. The private according to our river map has the most facilities, so we choose this.
It does not look like anything special, and it turns out also that the port is bankrupt and the area has been enclosed by fences and locked gates. When we want a ride into town, it is completely impossible to leave the port area.
Log-book: Today's distance: 49 km. Sailed time: 10:10 a.m. to 17:00 = 7 hours. Locks: 9 pcs. Weather: Day rain but snug and ok