Here Ronja will stay over the winter 2013 to 2014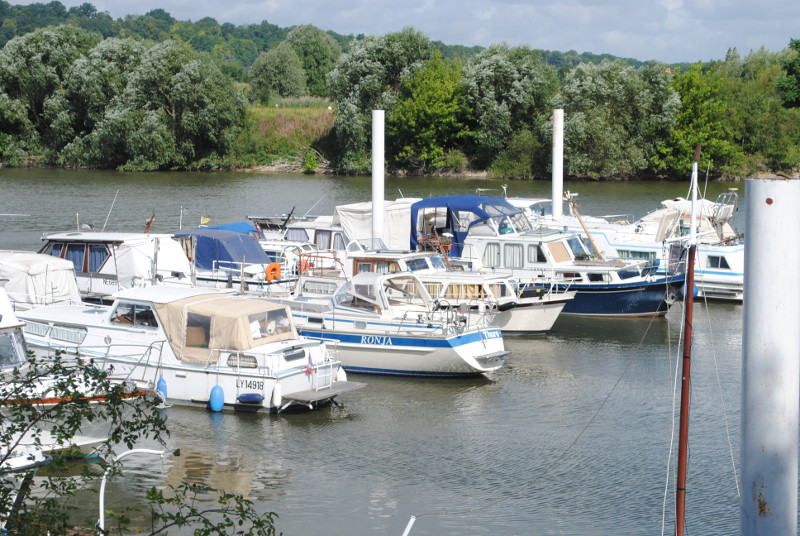 48° 51′ 3.9636" N 2° 22′ 4.6992" E
July 28. – 2013
In the late afternoon we call at Port St-Louis after a beautiful sailing through Paris and the northern suburbs.
Hanne and Per agree on a contract with the port captain. One years lease of berth in the harbour, supervised boat and help to winterize Ronja – a total of 1,890 Euros or 14,000 Danish kroner. This may sound expensive, but it's still cheaper than having the boat lie on Thurø in Denmark.
The agreement is, that Per will write in English to the port captain's son explaining what we want to have done about the boat when winter approaches – oil change, oil filter change, frost protection of water pipes, check the hot water heater and possibly charge the batteries.
The port captain is something of a pocket philosophical chatterbox,  we get to hear about his Italian childhood and the difference between nordic values and southern European values. People in the north have lived hard lives. They have no time to talk. They get right to the point, says the harbour master. People in the South are more into each other, and establish a relationship before they reach the matter itself. He is obviously disappointed, that we do not want to talk about the advantages and disadvantages of different forms of contract length, while Per just makes it clear that he only wants a contract of one year.
Port St-Louis is a somewhat worn port, the boats in the harbour are also worn, and the toilet facilities are not something to write about.
We are located in an industrial area, with large ghetto settlements populated by immigrants. Poissy is the hometown of the Peugeot factories. Yet we believe that Ronja has found a good winter home. Kirsten is charming the port's self-appointed lawman – the other port residents call him Rambo, his real name i Hans – who lives all year in his boat just two berths from ours. We give him the remaining stock of beer and soft drinks from the refrigerator and keep our fingers crossed, that he too will keep a close eye on Ronja.
Log-book: Sailed distance: 81 km or 40 miles. Time: departs at 9:30 am. Paying in Arsenal harbour. At five o'clock, we are – again – at Port St-Louis. Crew: George, Hanne, Kirsten and Per. Weather: Still growing hot. The cockpit tent is up most of the trip in order to provide a little shade.