Vive la France! We are in Calais, France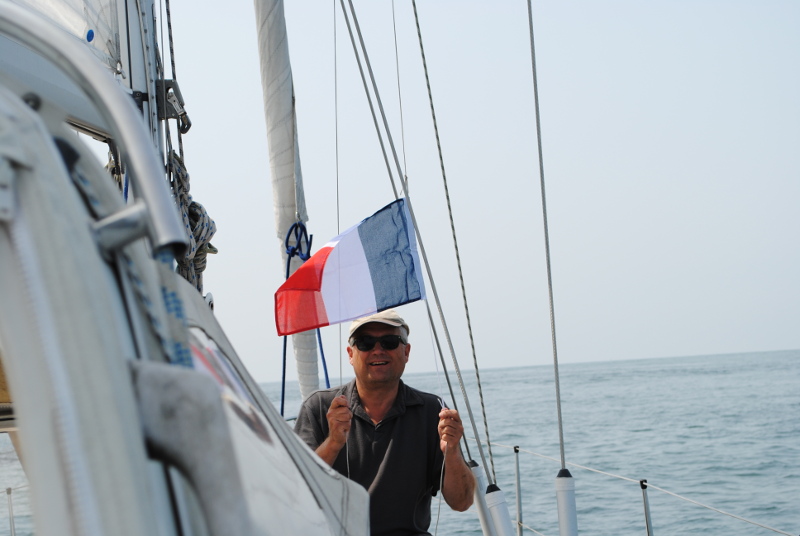 51° 19′ 8.2092" N 3° 12′ 24.6636" E
July 13. – 2013
The harbour master in Zeebrugge had recommended discharge at low tide, minus two hours, plus 40 minutes to get out of the relatively large but rather dull port of Zeebrugge. Low tide on July 13 was 11.32. That made the departure 9:32 and then forty minutes to get out of the harbour. For safety's sake we left at 8.30.
Having learned from yesterday, Kirsten set sail already inside the harbour. It did not, however, make a big difference. The English Channel was a mirror. Not a breath of wind.
Still, the day starts with an unpleasant surprise. The chart plotter goes out, and on the screen we see a revived icon of Ronja, revolved 240 degrees the wrong way on the map, which result in the fact that we cannot use the autopilot. Every time we try to do it believes that it is going completely the wrong way and therefore insists on turning the boat 240 degrees.
Sigh! Handheld rudder for eight hours. Not much to steer by. Just digital compass numbers. But the English Channel is nice. Certainly much more beautiful and more ingratiating than its reputation.
Then it's "Vive La France!" We chug in with the giant ferries from England to the Calais port and immediately we meet a Frenchman who is driving his motorboat around with aggressive and theatrical gestures as he tries to capture a plastic dinghy. Already at the entrance to the port, we do sense a cultural shift.
Welcome to Calais. Tomorrow is Bastille Day. We find a place in the tidal protected waiting basin, and after less than one hour we are let into the inner harbour. We eat leftovers and are pleased to be in France.
Calais has so much to offer. It is an old British city. The City Hall has obvious references to Big Ben in London with a beautiful flower park spread before it. Amid the flowered park is an impressive work of Auguste Rodin, "the six burghers". When the British had defeated the city in the 1300's, the English king threatened to liquidate all its inhabitants. Six prominent citizens interceded. A very intense work.
Log-book: Sailed distance: 60 miles with the tide in the back for the first six hours and then tough counter flow a few hours down towards Calais. Time: Departure 09.30 from Zeebrugge. Arrival 17:00 to Calais where we should anchor at a bend in a basin until the bridge is opened into the marina basin. Crew: Kirsten and Per. Weather: North western wind maximum of 5 meters per second. Never has the channel been so flat.