Probably the world's most beautiful train journey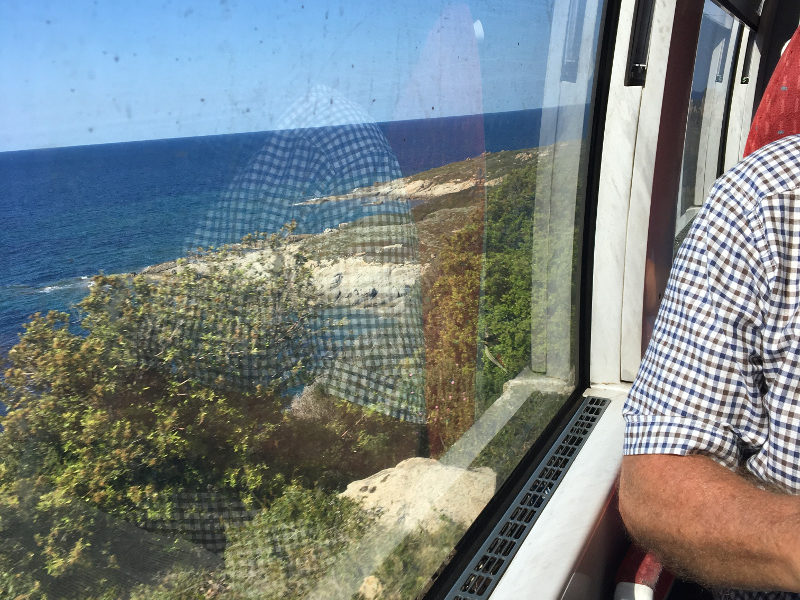 41° 55′ 9.2244" N
8° 44′ 19.086" E
21- April 23, 2017
When sailors go ashore, they take the train. At least if they go ashore in the city of Calvi in Corsica, and the plane to Denmark is leaving Ajaccio, a little further south in Corsica. By car there is 72 kilometers according to Google Maps. By train the journey lasts five hours. We choose the train.
Many have enthusiastically told us about the small Corsican trains that slide along the coast on narrow shines, creep up the mountains, and make great detours around the mountains to avoid the route beeing to steep.
We are not disappointed. If I was the owner of the railroad, I would order the train windows washed every single day, because a trip with these trains is really a spectacular attraction.
I think such a train journey tells you much of what you need to know about Corsica. About unbelievable beauty in the mountains, about scattered flocks of goats and cows and occasionally – but only rarely – a piece of cultivated soil. The tour brings you through small mountain towns, where you can hardly understand, how the inhabitants can earn a living. Scattered carvrecks and padded mattresses do not seriously obscure the image of Corsica's overwhelming beauty.
On fallow buildings we see graffiti with slogans of freedom and autonomy for Corsica. We are struggling to understand how an independent Corsica can match the island's huge unemployment and an annual net cash transfer from mainland France. Corsica currently lives by tourists and not much else.
We have a day and a half in Ajaccio (pronounced asjakio, we are taught) before the flight home. It is a big city after Corsican standards. It may be that people in Bastia think that they are the ones behind the dynamics of the Corsican economy. But it is not thruu. Ajaccio is the island's capital. It is not particularly beautiful. But it is humming of activity and many visitors. We in particular liked the city's busy food market and a couple of excellent museums.
Bonus info: Eat at the restaurant Le Roi de Rome. It is rated by TripAdvisor to be the 29th best among 2408 Corsican restaurants. The food is excellent, the owner understands Corsican wine, and the prices are absolutely fair. Also take a trip with the city's "petit train". You may feel a little silly sitting a kind of children's train, but it will take you to places in the area where you would hardly get on foot.