Paradis on Earth – Calanque de Port-Miou
43 ° 12 '20.16 "N, 5 ° 30' 55.01" E
July 5, 2016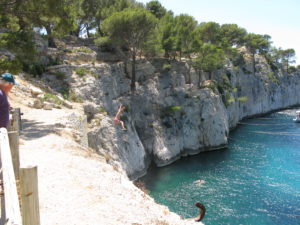 Until this day we had no idea, what a calanque was. We know that now. And we are excited. A calanque is a bay or – in the most exciting form – a narrow and deep fjord that cuts into a rocky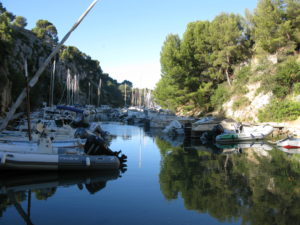 landscape, so the sides are almost vertical and can be up to 100 meters high.
When you're inside such a calanque, it feels a bit like sailing in a cathedral. Devoutly we look up and on the steep rock faces, enjoying the scent of pine trees and listening to the cicadas anthem. We sailed into them all, right from the first appeared a few miles after Marseille.
After checking all of them, we chose to settle down in – we think – the very most charming: Calangue de Port-Miou. Some calanques are boring, not much more than a wide cove with a blunt beach at the bottom. But the closer we get to the town of Cassis, the calanques are deeper and more characterful. First Sormiou, then Morgiou and later Calanque d'En Vau and Calanque de Port Pin. They are in their own way exciting. But none can compare with Calanque de Port-Miou.
At first glance it seems, that Port-Miou is just larger than the others with more places for mooring boats – with an anchor bend at one end and a rope wrapped around a rocky outcrop or, at best, a ring at the other end. But it is only at first glance.
Pout-Miou has a kind of anteroom, where there is room for 20-30 boats, and where there is a daily  cruises from major cities nearby, where guides tell tourists about the calanques. But the trick is to proceed. Even into the bottom of the front room, for here is revealed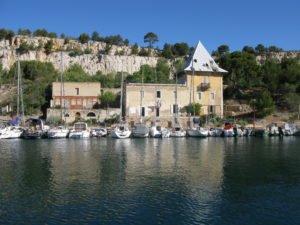 another room, much narrower, much longer, almost one kilometer long. On either side of this narrow space, there is built a "catwalk", a slender wooden bridge, on both sides. And here hundreds of locals have their permanent mooring. As in a secret inner compartment.
When we call the harbour master on channel 09 and ask for a berth, he refers us to the anteroom. We have no desire to go there. "We can see that there are berths available along the wooden bridges," we insist. An inflatable boat shows up and we get assigned a berth. A wonderful place.
It is a small paradise. The water in the narrow canyon's cold and clean and perfect to cool the body under the relentless sun. It is quiet. Not a sound from the tour boats in the front room. Only the cicadas. Occasionally a few kayakers or a single French man working on his boat.
Fact: It is primitive. But Frenchmen has an understanding for the value of beauty, so the price for an overnight stay in Port-Miou is the same as in Marseille, just over 35 €. And this is without electricity, far to the water connection and a 10 minute walk to the bathroom on the other side of the divide. Shopping is a 25-minute walk from Port-Miou in the town of Cassis. However, there are both bus and mini train, for those who do not bother walking.