Strange that the French do not use their own rivers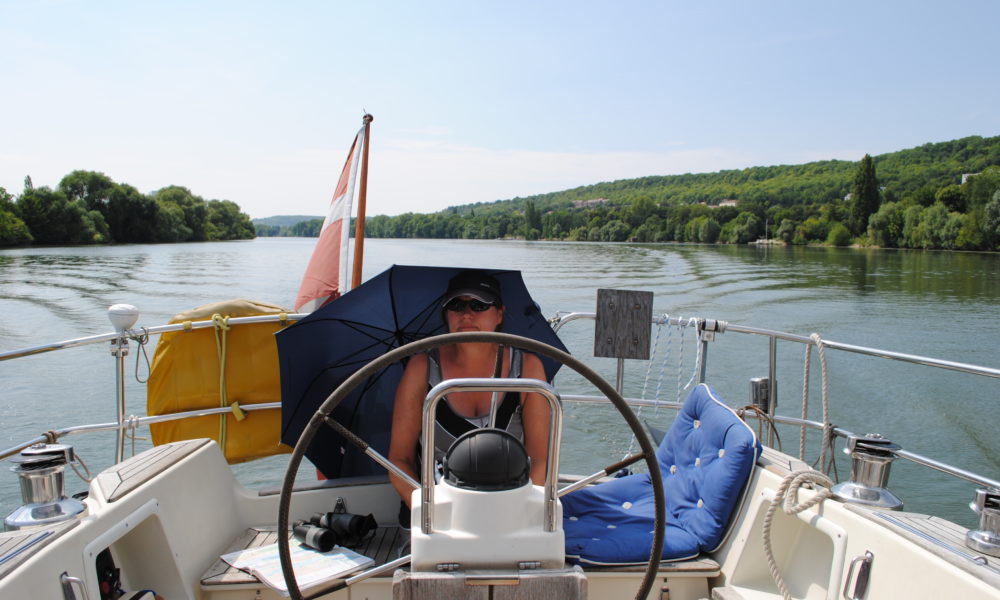 49° 9′ 52.6824" N 1° 23′ 18.7512" E
July 21. – 2013
It will be another hot day, where we take turns having the rudder-manager position. There is plenty to look at over the landscape which alternates between rough rocks and woods, small villages that still turn their back to the river or major industrial areas.
Even after we have left the tidal part of the river Seine, it is still only used to a limited extent for leisure purposes. We meet a few fishermen here, a couple of water scooters and on rare occasions a water skier. During the entire trip between Rouen and Paris, we wind up having only met two sailboats like our own. A Swede and then the French in Rouen. Not even motorboats, which are otherwise suitable for river navigation, we encounter many of.
We are in telephone contact partly with Lasse, Tianling and Nellie, as we have an agreement to meet in Paris on Tuesday afternoon, and partly Jørgen and Hanne, who have announced that they are going to come down to us in the car, and that if they are running non-stop, they can be with us by nine o'clock this evening.
We enter the Port St-Louis. It is barely deep enough for us and we find a berth with both water and electricity. It is a dilapidated port but the first "real" port, we have encountered since Rouen. We buy large quantities at a supermarket in a big immigrant neighbourhood two kilometres from the port. When we want to return to the boat we ask the supermarket, if they can call a taxi. They will not. It's not their job. Also this part of the service industry have not been trained in helpfulness to strangers.
By nine o'clock Hanne and Jørgen arrive with two bicycles and 20 plastic bags with luggage. Just the essentials. They will stay in the aft cabin. We eat and put a sign in their car, that it will stay in the parking lot for 8-10 days by appointment with the harbour master.
Log-book: Sailed distance: 87 kilometres, covering 43 nautical miles. Time: We leave at 7.30 times to make today's first lock, Notre-Dame de la Garenne. At 17 we dock at the port of Port St. Louis in the town of Carrieres-sous Poissy. Weather: The same weather continues.