Arriving in Paris by boat at night is a marvellous experience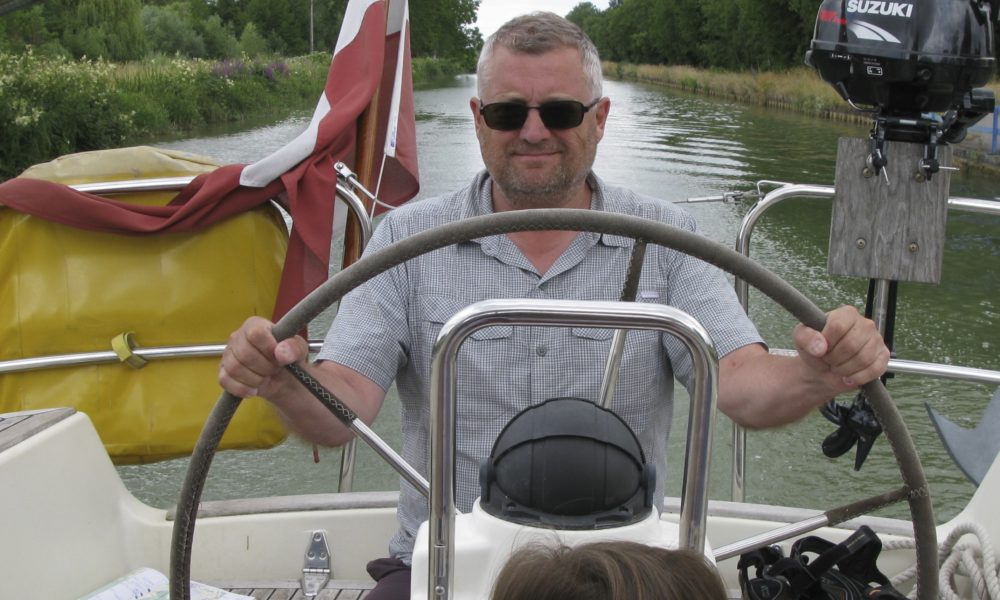 48° 58′ 49.8324" N 2° 2′ 12.2208" E
July 4. – 2014
We sail from Poissy-sous-Carriere at lunchtime. Henrik and Per  has bought food in bulk. Huge. Two stuffed supermarket carts. 24 bottles of water, beer, wine, garbage bags, disposable tableware and food for many days. Meanwhile, Susanne and Kirsten have made the boat ready and scared a million spiders off the deck and from the cockpit.
We fill the tank with diesel, pay the port captain and say goodbye to him and his son with thanks for taking good care of Ronja through the winter. It cost 250 euros extra for oil, oil filters, and battery recharging. Well, it had cost the same in Denmark.
The port's uncrowned king, Hans, get a new handful of canned beer and a hug from Kirsten. He looks like a happy man.
The trip to Paris is ok. We know the route in and out. For Susanne and Henrik it is an experience to try the locks for the first time and also to see Paris from the sea. The last – to see Paris from the sea on a Friday night – is a great experience for all of us.
Paris has just lost to Germany in the World Cup in Brazil. But it is not visible from the Parisians when we sail the last kilometres towards our destination, Port Arsenal. There's a party along the Seine quay edges. Thousands of young people sitting in groups, smoking, drinking, eating, having fun, listening to music or dancing at the special dance places. It's a beautiful experience to sail through Paris so late in the day. Party Ships. Holiday Atmosphere. Stuffed restaurants. Festively dressed Frenchmen. Great.
Log-book: Today's distance: 80 km. Sailed time from 12.30 to 21.30 = 9 hours. Locks- 4 pcs. Weather: heavy and hot.