Rotterdam the largest port in the world? Likely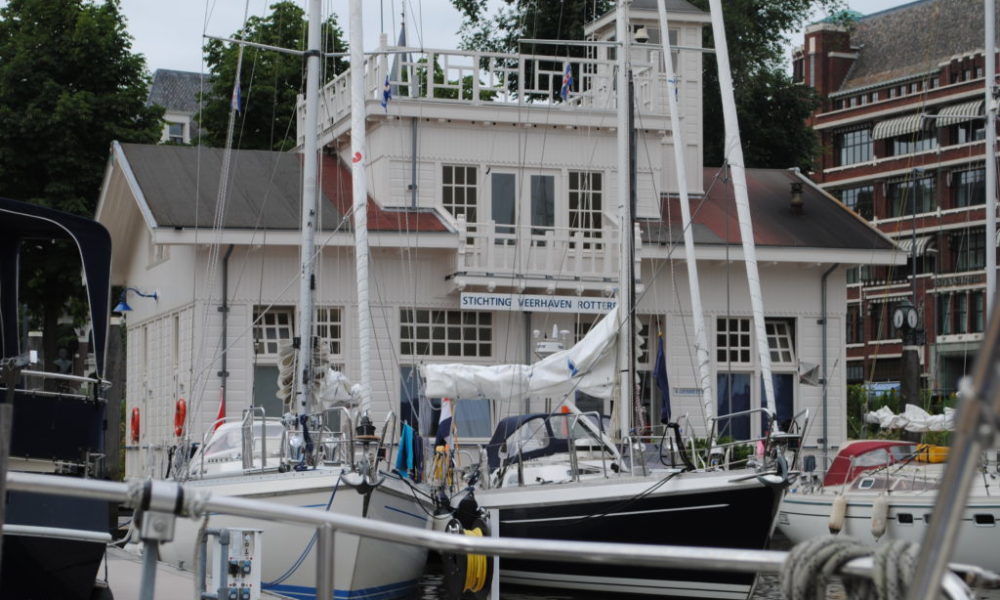 51° 54′ 33.7644" N 4° 29′ 57.264" E
12. juli 2013
The exit through the port of Rotterdam is indescribably exciting. Dynamic. Everything is incredibly large. The cranes, docks, tugs and warehouses. Kilometre after kilometre this huge port stretches itself. Through thirty unbroken kilometres side branch follows side branch, docks follows docks, crane follows crane. The largest port in the world? It is likely.
Cargo ships entering. Cargo ships on the way out. Huge. Small. Crawling into and out of the side channels. In the beginning only a few. During the early morning it becomes more. The port awakens. Rotterdam is in the process of getting the day into gear.
We got up at 6:30 and said goodbye to Rotterdam before the clock hit seven. The harbour master in Stifting Verhagen Rotterdam – in combination with our own still a little hesitant calculations – told us that we get the most nudge in the back of the tide, if we start a little before high tide in Rotterdam and capture the southbound tide at the Maas River estuary off the Hoek van Holland. We do. The plan works.
Seven knots and later eight and a half knots, our speed through the English Channel, where we changed to go by sail in stead of motor, while we blissfully eat Kirsten's homemade muffins with Dutch cheese and Italian sausage, sleeping half an hour alternately and otherwise enjoying a leisurely sail. High speed but completely under control because neither wind nor wave height is scary.
The Dutch have mastered the security of their inland waterway system. We change dutifully channel on VHF each time a sign on the country proclaims, that VHF channels now change to a new number, but we fail to call the station every time we come to a new VHF station, which had been recommended by the harbour master of Rotterdam City Marina. We sail gently. We are in control. Big brother in the Maas River control towers do not hear from us.
On the way out of the Maas exit we get called by a control tower.
"The yacht that just left the harbour entrance please report!"
"Ronja here!"
"Southbound or northbound?"
"Southbound"
"Have you seen the vessel just behind you?"
"Yes, we are intending to cross the traffic-line, just after they pass"
"Two more ships are coming in, please wait and keep to this channel."
Later, we are contacted again by the control tower and asked to turn to the south, after the last of the two incoming vessels have passed. The vessels are sailing in columns on the deep-water route to the Maas River and Rotterdam. The day is really waking up. Rotterdam moves up a notch, while we have said farewell to a dutch adventure, that has lasted almost a year.
Log-book: Sailed distance: 75 nautical miles with the tide in the back of the Maas River and down to South Holland and Belgium. Time: Departure 6.50 from Rotterdam. In Zeebrugge, Belgium, 17.00. Crew: Kirsten and Per. Weather: North western wind maximum 7 meters per second. Wave height: 1 meter