The golden capital in the land of lemons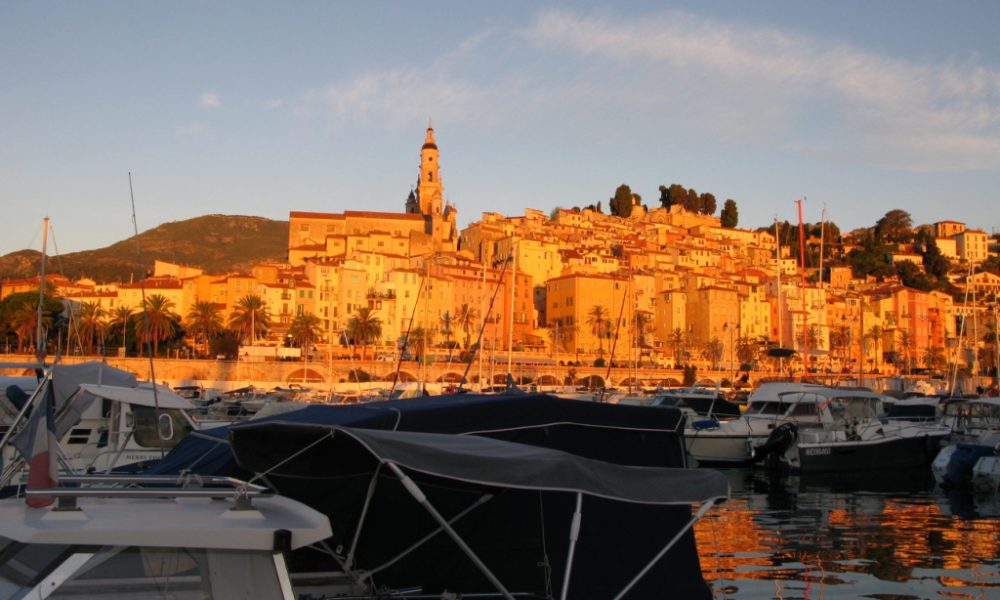 43° 46′ 33.9024" N 7° 30′ 39.3444" E
September 19, 2016
The young clerk in lemon-shop is really angry, when he explains to a Russian tourist, that he must not use the same plastic fork to take samples of different glasses with lemon marmalade. "You need to take one sample with one fork. Then take another fork, if you want to taste one of the other glasses with jam, "said the clerk in English. His words were lost on the tourist, who continues his trip through the free tastings, while the clerk is getting more and more irritated.
We are in Menton – the city that makes the lemon to its characteristic with annual lemon festival and shops with everything in lemon flavor: Perfumes, spirits, soaps, oils, vinegar and jams.
Menton is a babylonian trainstation of cultures and nationalities, that are living together and occasionally – as in the lemon-shop – collide. The city is officially french, but with only one and a half kilometers from the Italian border it is as much Italian.
Other boats in the harbour carries both the French and Italian flag, and in the streets British, German, Russian, Belgian, Dutch and Scandinavian languages mix themselves catchy with French and Italian. Menton attracts anyone who loves a mild climate all year round. They settle. They visit. They taste. They enjoy.
Menton is a kind of mini-Nice. An old town at one end and at the other end a kilometer-long promenade, that stretches to the west. Restaurants, hotels, appartments, sunbeds, marketplace, beaches and freshwater showers. Everyone wants part in the sunny home of the lemon and its multicultural life.
Menton is itself and has its own charm with casino, nightclubs, cemeteries of the city's most exquisite views and a few art museums. Compared to Nice missing the little wings, when it comes to history, art and architecture. Jean Cocteau, who in 2011 got his own art museum in the port of Menton, when an art collector, Severin Wunderman, donated 1,500 works to the city, do not compare with the Chagall- and Matisse-museums in Nice. No, not at all.
Multiculturalism in Menton also appears, when we arrive first in Menton Vielle Port and the day after in Menton Garavan. We call on VHF channel 9 and ask hopefully: "Parlez vous anglais?"
"No, mais nous parlons francais an Italian …"
Excellent. Finally, we are in a bilingual area. Just pity that the one language we do not master very good, and the second we do not understand at all.
Bonusinfo: If you are in Menton – or Monaco – do not miss the breathtaking hike around Cap Martin between Menton and Monaco. The trip takes a few hours and requires a large bottle of water each way. But hours and water is really worth the trip .
Another info: Forget your fold-out cycle in the bench of your boat! Traffic and steep roads make cycling to a dubious and dangerous pleasure. Only aging men in tricot on racing bikes defies the cyclist-hostile environment of southern France.