Corsica says welcome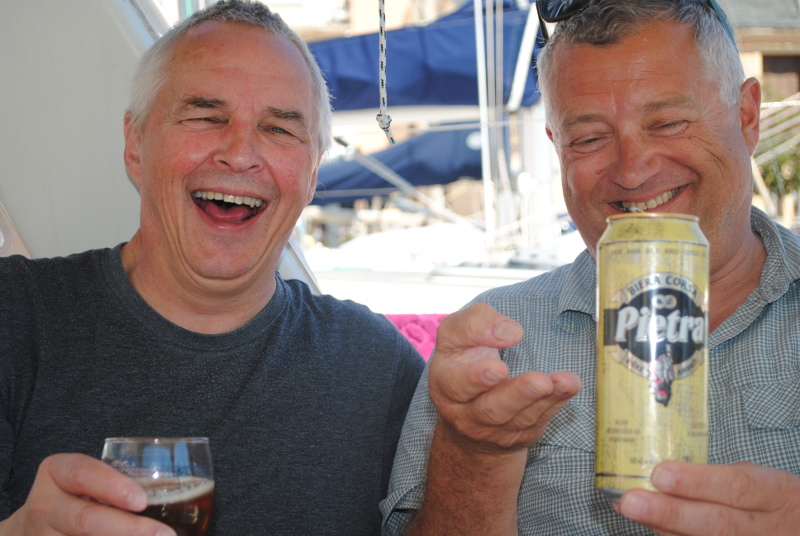 42° 41′ 44.4948" N
9° 27′ 3.9024" E
April 7 to 9, 2017
A tired little bird takes a short rest in our cockpit in the middle of the sea between Elba and Corsica, but otherwise today's 38 nautical miles are rather uneventful, until we just outside the Corsican port city of Bastia is welcomed by three to four dolphins, that swim fast under our boat and make enthusiastic leaps out of the water.
What a welcome.
We sail past the large ferry harbour and slip into the old port. We are assigned an excellent berth for just 73 euros for three nights (yes, we are back in France). The port appears not only to be cheap, it is also exciting. From morning to night there is a busy traffic of fishermen, divers, customs officers, sailing schools and local yachtsmen who slips past the harbour to check the moorings on their boat, now that the season are approaching.
We immediately likes the city – especially the area around the old port. The harbour neighborhood is the oldest part of town, and it is obvious Italian inspired and reminiscent in many ways of Genoa with tall buildings and narrow alleys. The town's citadel is restored and converted into a museum, which is certainly worth a visit.
Saturday and Sunday there is a market in Place du Marché, where we buy vegetables, meats, breads, cheeses and herbs. Bastia has 44,000 inhabitants. But when you walk around in it, you get the feeling of a major city.
Bastia has for centuries been in rivalry with Ajaccio about being Corsica's capital. But Napoleon Bonaparte did not like Bastia, so he made Ajaccio the island's capital and defeated with an iron fist a rebellion by the inhabitants of Bastia. Since then, the competition between the two cities only have verbal character. The inhabitants of Bastia looks upon Ajaccio as a dusty administrative town, while Bastia in their own perception is the dynamic commercial town that keeps the Corsican economy afloat.
Bonus Info: Taste the Corsican beer made on chestnuts. It is called Pietra (rock), ant it is surprisingly good. Corsica is not known as a beer-country, but in 1996 some people in Bastia began to brew a local beer, which has since become a great succes in Corsica.