Can you guess what this photo imagines?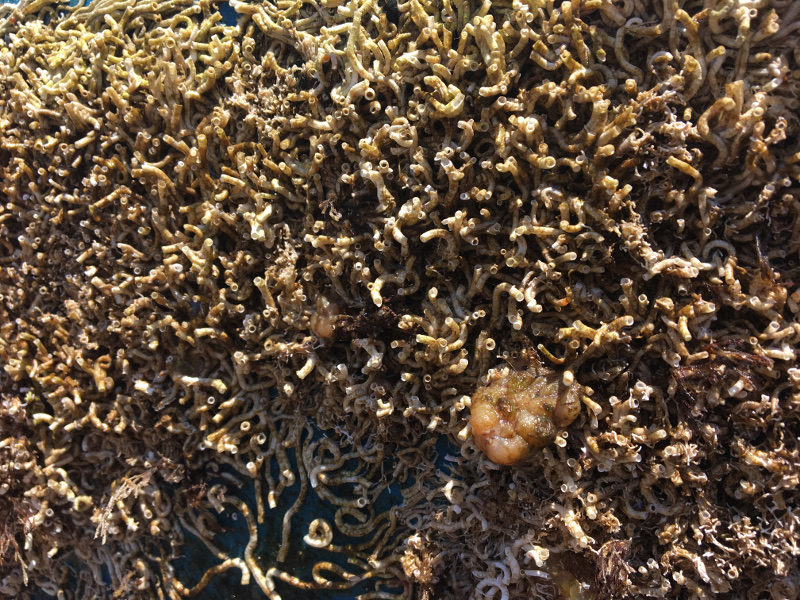 42° 33′ 46.6848" N
8° 45′ 25.2" E
21. April 2017
We leave the question on the screen for a moment ….
And here comes the answer: It represents the bottom of a Danish sailboat, which has been in the Mediterranean for more than a year and a half, close to two, without being taken on land, grounded and painted.
Shellfish have found their home especially below the waterline and for some reason especially at the port side of the boat. Further down the hull and on the keel, the boat is surprisingly untouched of its year and a half in the water.
Ronja was last at land in Port St. Louis west of Marseilles. Now we are in Calvi in Corsica. We have agreed with Aire de Carénage de Calvi to pick Ronja out of the water and to take care of her, while we are in Denmark for a couple of months.
Now she is lifted out of the water and stands at an honorable place directly to the bay overlooking beaches and snowy mountain peaks. We feel good about leaving Ronja in the hands of Dumé and his boss Christine. We have talked to them several times, and the way they lift Ronja out of the water, clench her up on a tripod and instantly start cleaning her with high pressure water shows us that they can be their hugs.
They speak French only, so it's not easy to agree on the price. We end on agreeing to pay 642 euros for storage (11.32 euros per night), 292 euros for crane lift up and down the water and 604 euros for cleaning and painting the bottom. In addition, the French VAT. Expensive? Well, it might sound expensive. But the alternative storage options would have been significantly more expensive in that part of France at that time of the year, and for us it is a good thing this year to pay someone elseto do the bottom-cleaning and painting on Ronja.
Splendid to be back in Calvi, by the way, after our stormy excursion to Île Rousse. Calvi is definetely our – preliminary – number one among Corsican cities. It has a good size, the port is eminently integrated with the city center, the city has amazing beaches, great restaurants, beautiful buildings and beautiful hiking opportunities. Viva Calvi!
Our enthusiasm for Calvi is shared by others. When we come back from Île Rousse, we retake a berth next to a French 39 feet Beneteau, which we had had as neighbours previously in Calvi. The people onboard are two married couples from Brittany in northern France. For many years they sailed in the area next to Brittany, but they became tired of the tide and the well-known ports. So they acquired a berth in Antibes in the south of France, and since they have from here been exploring the Mediterranean during their holidays. This Easter they are entusiastic about Calvi.
When we waved goodbye to them, they had 40 hours of nonstop sailing to Antibes and then 12 hours drive up through France to reach their home in Brittany.
There are many ways to be a sailor.