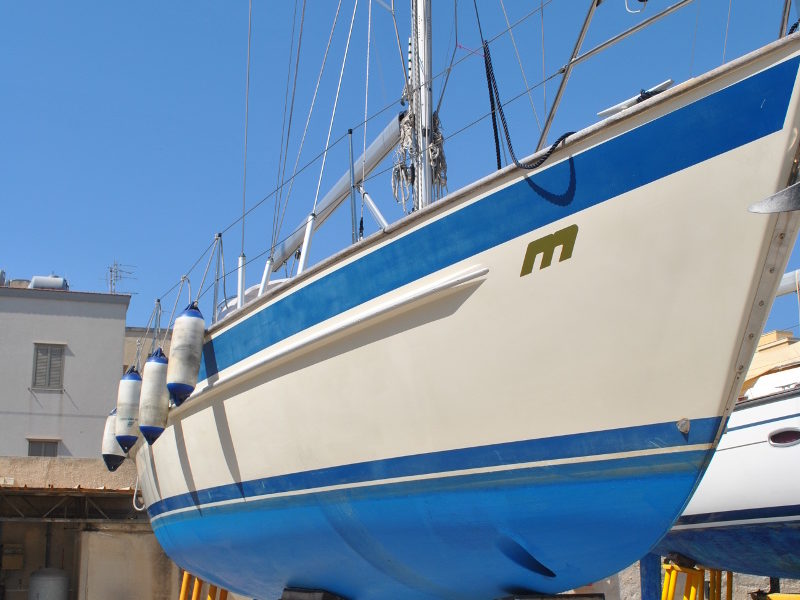 38° 0′ 50.1516" N
12° 31′ 17.5404" E
July 28 to August 2nd
"I do not know about your country. But in Italy, it's quite normal," the man insists.
"That's the price. Just ask any laundry service in all of Italy. They will tell you the same," he continues. We have arrived in Trapani, on the far western coast of Sicily, some 100 kilometers from Palermo, and we have ended up in the claws of a talented trader, who have seen the possibility of quick gains from a couple of naive sailors, who are obviously from out of town and even on transit. The man, who is a driver for a local laundry, has just presented us with a handwritten laundry bill of 158 €, equivalent to 1200 Danish kroner. 1200 kroner! So much we have never paid for having washed a few t-shirts, bathing shorts and towels. Come on!
Normally we wash our clothes ourselves. Only once earlier we had someone else to wash. That was in Corsica, and the price was 200 kroner.
But in the hectic day before flying back to Denmark, we say yes to an offer from the harbour to have a laundry-driver come and pick up our dirty clothes. On top of that, skipper makes our position even more bad, as he expresses interest, when the laundry driver makes him understand, that he can get for us an exceptional good local wine for a very good price. "If it does not taste you, do not pay at all," he says.
"Shall we say six bottles? You'll get them when I'm back with the laundry.
"The six bottles of wine cost 72 Euro. Vivino's app says, they should cost 58 Euro. But never mind. You win some, and you loose some. But on top of this comes 1200 kroner for washing our bathing-trousers.
We cross our arms and say no. The driver takes a pen and asks us to write, what we will pay. And here begins the bargain: "You do not imagine how much you push me. I'm getting so much in trouble with my friend," the driver whimpers. We do not know if this friend is the laundry owner or the wine producer. But after ten minutes we end up in 160 Euro instead of the original 230 for laundry and red wine.
He is happy, when he walks. We are happy, when he walks, and now we have learned never to mix laundry with the purchase of red wine and always to ask for the price upfront.
Apart from this, Trapani is a wonderful city. It has culture and style and an outstanding location with water at three of it sides, beautiful churches, relatively well-kept buildings, an overwhelming fish market and many other attractions, that we hardly see, before we have to pack up Ronja and get her lifted to land. Here – in Trapani, Sicily – Ronja is going to stand on a tripod for eight months waiting till we reunite at the end of march 2018.
Prior to arriving at Trapani we have been on our longest sea trip ever. We headed out from Sardinia's main town, Gagliari, in a nice wind from behind the mast that blew us over the waters between Sardinia and Sicily for 15 wonderful hours. Then the sun and the moon went down, and they took with them the wind. The engine took over, while the stars turned on the night sky as clear as never before, and in the company of the skipper's wife's brother, Jørgen, and his wife, Hanne, we had a wonderful experience with 1200 meters of water under the keel, good company, excellent food produced between the gas cooker's swing bars – and as a bonus to the early watch-team the morning sunrise and playful dolphins.
After 28 hours of sailing, we reach Sicily's westerly forepost, the Egadi Islands, in the form of rocky island Marettimo. For hours, we watch Marettimo's get out of the dusk like a non-welcoming island, and as we take a turn into the island's only port, it turned out to be just as non-welcoming, as the island had looked. "The harbor is absolutely full," said a young guy whit no clothes on his upper body, claiming to be a harbour captain. We had called the harbor on VHF Channel 9 without any response, and now we are rejected, backing out to find an anchorage, although anyone can see, that this port is neither full nor half full.
As a couple of us in the evening sail to the harbor in our inflatable boat, there is still only one sailboat in the harbor and plenty of space. We guess, they just do not like strangers on this island. Marettimo is exactly as non-welcoming as it looks. Just pass it. There are better possibilities further east.
We spend the night in an enchanting anchor bay with lots of swimming and snorkeling and wondering, why our engine once again is causing us trouble. Our preferred speed is 2500 rotations. Now we can't drive it over 1500. Maybe the fuel filter?
Well, who cares. The sky is blue. The wind is favorable. Our moods are just fine.
We head for Trapani, 22 miles further east. Trapani is already scheduled to be this year's final port. We have an agreement with the local yard about lifting Ronja out of the water, storing her on land and supervising her. Now also we have an agreement to have the engine fixes.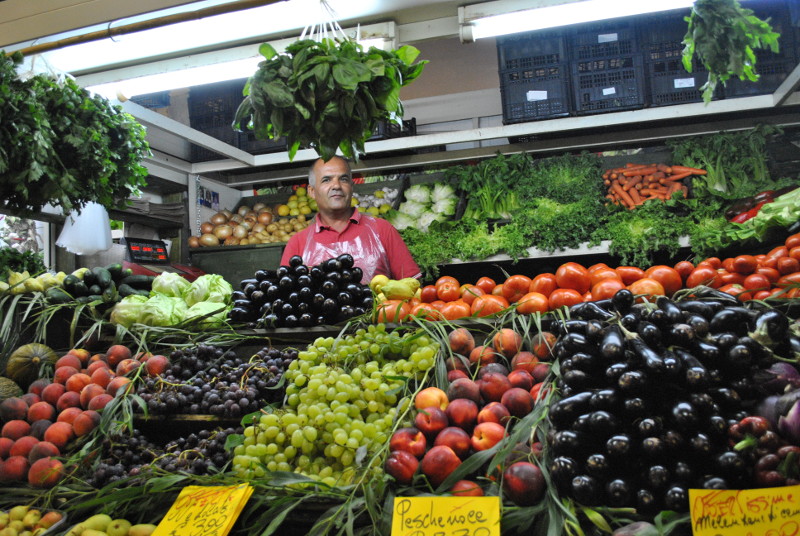 39° 12′ 2.3328" N
9° 7′ 33.8772" E
July 19th to July 28th
"Are you off to Sicily tomorrow? Take plenty of seasickness pills," recommends our Australian neighbours. They have sailed for three years non-stop in the Mediterranean, and one can't rule out, that they know what they are talking about.
"We have decided to wait until Friday," says our French neighbour to the other side. He just got his wife and two grandchildren on board, and we had – more or less – planned to sail off to Sicily at the same time. A trip close to 182 nautical miles eastsoutheast, 30 to 40 hours of sailing according to the conditions of the wind.
"We are also waiting till Friday," says the Italian sailor mooring on the other side of the pier. He thinks that one-and-a-half-meter high waves are somewhat above his level of ambition.
We go to the harbour captain. Let's hear, what he says: "Wait for tomorrow," he recommends. The last days of strong breeze are decreasing, but still the waves are high on your way to Sicily.
We do not have anyone to impress with our daring style. We are not even in a hurry. We've just – once again – been blown in for four days, and we were so much looking forward to Thursday. But okay. Now it's going to be Friday instead. We'll spend another day in Gagliari, the main city of Sardinia.
Gagliari is a large provincial town, about 200,000 inhabitants, and a total fuck up of city-planning, where everything is planned to please private car drivers, and where it may be possible to walk around but impossible to go by bicycle. The city has miles of beach, but to get to this and home again, we have to lift our bikes across the car guard several times and cross the highway traffic. Signs about where to go? Forget about it.
The city built a pedestrian promenade of several kilometers for pedestrians and cyclists. A very popular place for kissing lovers, and the huge harbour basin is the hunting arena for dolphins, forcing small fish into a corner of the harbour.
This promenade is only a few years old. Nevertheless, the gang-boards are loose and the fence towards the harbour is in the process of rusting.
This is also Gagliari. A city that does not really catch up with time.
We live in Marina de Sole, one of Gagliari's many harbours. We went there, because we could see on the web, that many other long time cruising people go to exactly that harbour. Here again we are surrounded by gang-boards, wrecked yachts, a primitive port office in a tent and a toilet, that threatens to topple in the harbour, partly because the toilet bowl is loose and partly because the toilet floor is leaning down towards the harbour.
However, Marina de Sole wins over time. There are many long-distance sailors in that port. There is a fine atmosphere. The captain and he his staff are very helpful. Even the potentially destructive toilet, they take control over. They mold a new floor. The toilet bowl is fixed. My soul what more could you possible want?
Bonus info: Port money can be negotiated. First draft from the port in Gagliari is 50 € per day. We end up paying 33 € per day. Gagliari is said to have Italy's largest fish market. It's sumptuous. From swordfish to oysters. Upstairs they have a vegetable-, cheese- and meat-market, which beats most, of what we have seen till now. The market is not easy to find. But do ask for it. It is definitely worth the effort. We found satisfaction in visiting Sardinia's National Archaeological Museum. You either like that sort of thing or you do not. We do. Best pizza we got at Pizzaria Sardegna. Best dinner we got at Bistro Fork.