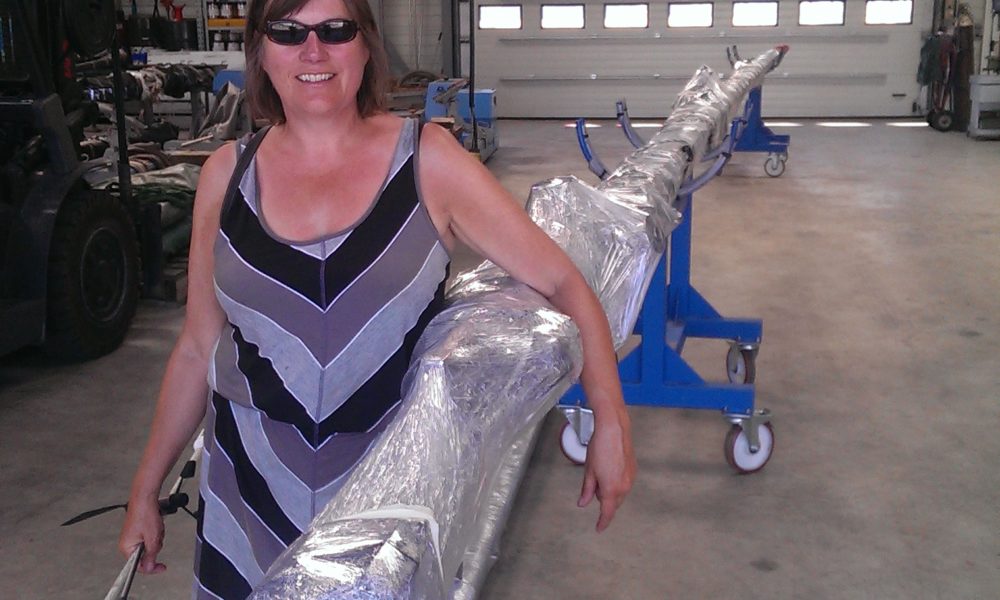 49° 26′ 35.6352" N 1° 5′ 59.8956" E
July 20. – 2013
We go to the warehouse at Lamanage. We remove the horns, the defect windpointer, the VHF antenna and the backstay, which is too long to be in the german lorry. We pack the mast in plastic and tape. The same with the boom and kickingstrap. Inside the plastic we place a "sign" with the name "Ronja" and Pers' contact data.
Here you are. Mast and boom are ready to be transported to the Mediterranean. Per writes in the evening to Wolfgang Graf, that now we are ready with our part of the bargain. The rest is up to him.
Out in the streets again with our electric bikes. It is a great invention. We ride around Rouen for five hours. We see churches and churches and churches. We see old neighbourhoods with original buildings from not just the last century, but previous also. We hurtle away. Uphill. Downhill. Through the pedestrian streets. Electric bikes "rule the world."
Along the way we find a great lunch restaurant, as French as it can be. Per has a mountain of tartar steak with an egg yolk in the middle and all sorts of condiments to mix with – capers, onions, chives, parsley, tabasco sauce, Worchester sauce. Kirsten gets the best ever salad with cheese and lots of exotic fruits. The absolute best meal we have had in a restaurant during this year's world tour.
We cycle on. Going into L'Eclerc. A mammoth supermarket as only the French can make them. We buy Quiche Lorraine, ham, cheese and baguette. France, with daytime temperatures of 30 degrees is not great for hot dishes. Rather a small cold thing. Morning, noon and night.
French dislike cyclists. Everything is organised on cardrivers' premises, and cyclists are fair game. They drive close to us. They cut in front of us. It's all quite different from our experiences in the Netherlands, where cyclists are abundant and are largely a group of road users who are shown respect.
Back in the marina, it grows hot. We eat and talk a little with our British neighbours in a 39 foot and three story high motorboat. Fred and Margaret. We invite them to a glass of "Chateauneuf du Pape". "Whauu", they say. "We are British and normally drink only wine at three euros the bottle."
They are pleasant to speak with. In fact, they are more normal people than sailors. They had run a construction company, and as the crisis started – they had left it to their son, and having receded, they needed something else to happen. They are like the French in the third boat, eager to pass on their experience of sailing in France. "It's not about finding a good place to stay on the Seine. It is solely about finding a place," they say.
There is not much that really works for the French, according to the two Britons. "No, the Dutch have much more control over their things," they think after having also sailed part of the Netherlands over many years. They live twenty kilometres outside of London, and have their boat lying in Ipswich.
The greatest experience on their actual trip was a visit to Monet's garden. Visit it. It is fantastic. Otherwise, they are most concerned with their criticism of the French, who can not find out how to do anything right. Later in the evening we move onto their boat and get British coffee – weak "but better than the French, who's is so strong that the spoon is standing in the coffee" – and cookies. Cosy people. But probably more to gardens than boats.
The British give us their own list of accommodations along the Seine with a lot of handwritten comments on the individual sites.
Today's harbour master, responsible for the three foreign guests, is Monsieur Eric. He is a person of helpfulness. When we come back from town after unsuccessfully trying to purchase a VNF vignette for sailing on the French rivers and channels, Monsieur Eric helps us to buy a vignette over the internet and print it out, so we can place it visible on the boat. A French keyboard is very different from a Danish keyboard, so it takes some time to get the application complete and the vignette printed out. But we succeed. We are seriously ready to channel navigation.
Same Monsieur Eric is strongly upset about the fact, that we want to leave his wonderful city after only two nights. "You come here, but You do not want to seriously learn about our city?" Tonight the church for example, is illuminated. We tell him about the five-hour bike ride, fatigue and the desire to come to Paris and meet our granddaughter in a few days. He does not understand.
Logbog: Sailed distance: 0.0 miles. Time: We stay the day in Rouen's marina. Weather: Insanely hot. Hot in the morning, and 31 degrees at six o'clock at night.